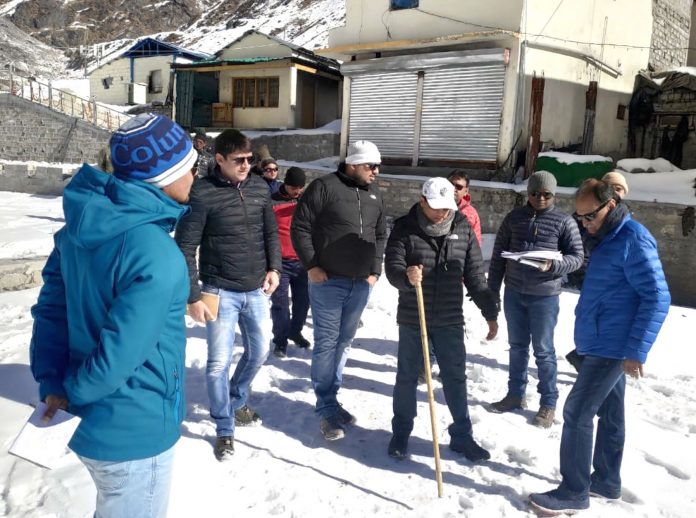 Chief Secretary Utpal Kumar Singh, Secretary Tourism Dilip Jawalkar and District Magistrate reviewed the ongoing reconstruction works at Kedarnath. On this occasion, Chief Secretary Utpal Kumar Singh instructed the DDMA to construct adequate number of toilets between Gaurikund and Kedarnath temple. He also found the number of labourers inadequate for the safety works at Saraswati river given to Jindal group and found the work slow. He showed his dissatisfaction at the slow pace of work and inadequate labour force and instructed that till next inspection, the work should progress fast maintaining quality.
The Chief Secretary also instructed to construct a shed on the path connecting the replica of the temple built near the western gate of the temple, close to the Mandakini river (Astha Path) to save pilgrims from rain, snow and hail. He further instructed the building of a 60 meter bridge over river Mandakini river to connect Garudchatti, widening of a raised platform (Chabutra).
He insisted on hastening the pace of work of Shankaracharya Samadhi so that it was ready before the end of the Yatra, next year.  He reviewed the progress of houses to be built for 'Purohits' and repair of safety works on the river Mandakini by DDMA.
The Chief Secretary also instructed the DDMA to repair five government buildings and handing over of nine houses so  that 'Teerath Purohits' could be rehabilitated.