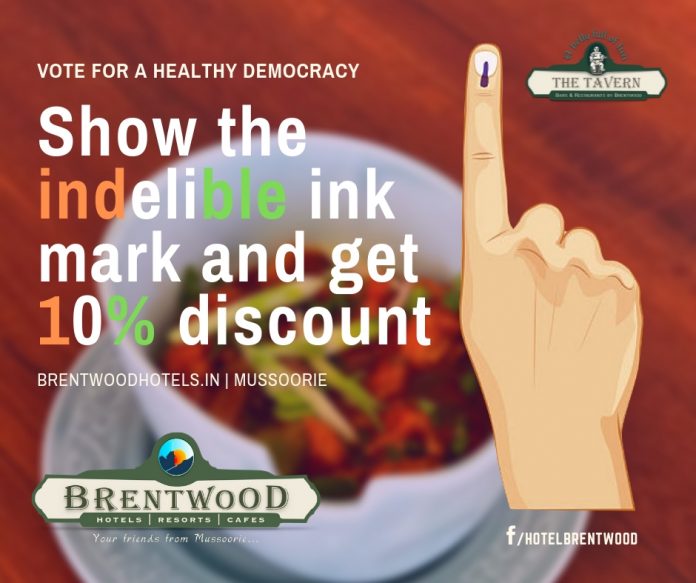 Dehradun/ Mussoorie, India is all set to celebrate democracy tomorrow with the first round of polling taking place in 91 constituencies tomorrow morning from 7:00 a.m. to 5:00 p.m on 11th April.
Compared to other Himalayan states like Nagaland, Tripura and Sikkim, Uttarakhand comes in at an appalling 30th in all India polling percentage. In 2004, a poor turnout of 48.07 was replaced with a 53.43 percentage in 2009 elections, which was replaced by the Modi-lehar in 2014 with a promising 61.6% exercising their power to vote.
Hoping that these figures will change for the better, Brentwood Hotels and Resorts have come out with an innovative idea to ensure that you are rewarded for casting that valuable vote of yours.
After you have cast your vote, make sure you head out to any of the five Brentwood hotels and Restaurants such as The Tavern Dehradun and Mussoorie, Cafe De Tavern, Mussoorie, The Imperial Square, Mussoorie or Whistling Pines, Hotel Brentwood Mussoorie. Flaunt that indelible or phosphoric ink or dye applied to your left-hand forefinger post casting your vote and you can avail 10% off on Food and Beverages at these eateries over the next two days i.e. 11th and 12th of  April.
Speaking about this unique gesture, Sandeep Sahni of Brentwood Hotels and Resorts tells us the idea behind the incentive, "it is to simply encourage people to vote for a healthy democracy and act as an incentive for first time voters and ladies who want to take that much-required break from their kitchen chores for the day."
Tomorrow when you get ready to head out of your homes to exercise your power to vote, do head to the any of the nearest Brentwood eateries in your vicinity post voting,  to avail this lucrative offer over the next two days.