Dateline Srinagar: The latest Royal Enfield movie, 'Riding Upto the Stars/Astral ride' launched on YouTube is anything short of being an audio-visual treat.
The close to three-minutes, the AV takes the audience on a ride across the breath-taking splendour of Zanskar and Changthang Valley of Ladakh with the soulful voice of local artist Kunzes Dolma in the background accompanied by the music of Rigzen Sangdrup, Angdu Khigu and Pracheer Devli of Dehradun.
What makes this movie even more endearing is the fact that it has been put together by the efforts of the multi-talented Pandavaas group, based out of Srinagar, Garhwal.
Post the success of their 'Looms of Ladakh' episode, the Royal Enfield team reached out to the Pandavaas to take on the role of a creative team with the Royal Enfield riders. Shot in the month of September and October when the Milky way galaxy is seen in all its splendour, the team spent a little over a month to shoot the starlit formation in the dry, arid and light-free desert of Zanskar and Changthang.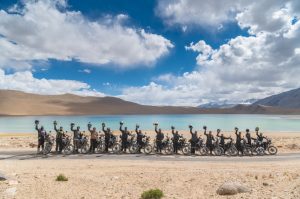 Ladakh is a pilgrimage for every Royal Enfield rider and the company wanted to  promote responsible tourism with its motto, 'leave every place better.'  This was reason enough for the Pandavaas i.e. the three brother team of Ishaan, Kunal and Salil Dobhal along with Shashank Nawani from Haridwar to come on board.
Talking about the project Kunal Dobhal the videographer of the shoot adds, "We have many such picturesque towns and valleys, similar in beauty, if not more in Uttarakhand as well and we wish these will be projected in brands such as these, in the near future."
"We handpicked local singers and musicians and stitched together a promo which has turned out as magical as ever, " says Ishaan who did the music for the shoot. While Salil Dobhal who captured the essence of Zanskar and Changthang valley and the Milky way in all its glory says, "we have tried to change the image of a biker into a gentleman rider and that is what comes across in our joint endeavour."
Click here to see more: