Dateline Mussoorie: For many, the pandemic was not the end of the road, but an opportunity to chase their dreams. One such example comes from Mussoorie.  Proud parents and their doting daughters settled across the globe have carved a niche for themselves when it comes to TEA, the aromatic beverage.
Located in Mussoorie, Glenlicious has become the prime manufacturer and supplier of a range of speciality tea products. The tagline for this is "Delicious from the Mountains." Although the town doesn't have any tea plantations, yet as its head-quarters, the blending, tasting, packaging and shipping is managed from their Mussoorie office & subsequent branch office in Chandigarh.
Years ago, Mussoorie resident Inderjeet Singh co-founded Le Zeit Business Ventures Private Limited with his three daughters, today the company has ventured into Le Zeit Watches, Le Zeit Home décor items and Glenlicious food products. The company strongly believes – "It's really important to us that people know they matter and their requirements matter. We constantly thrive to produce products that are responsibly sourced and will make a difference to our customer base. We wouldn't have it any other way!"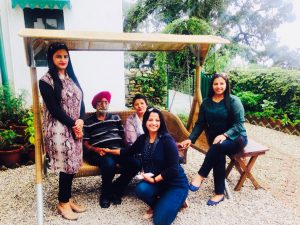 Pallavi, Shail and Ravi all co-founders of the company, have their roles cut out. While Pallavi has an eye for detailing. She is the creative mind behind the entity, in her words – "I want to contribute to the industry through design and responsibly sourced quality products. My motto remains:  be observant and thrive to make a creative difference."
On the other hand, Shail is the skilled hand. Her prime responsibilities lie in growth of customer base and channel partners. In her own words – "We are not just creating profits for ourselves, but we are ensuring healthy products for our customers as well without compromising on taste or health."
The youngest among the three sisters Ravi, handles the marketing and is the technical brain behind the business. Ravi passionately voices her thoughts around the products – "Whether it's your strong, milky morning cup of immunity boosting tea, or punchy, tangy, fruity or floral non-milky flavours, or a traditional Kashmiri Kahwa, the objective is for the customer to experience smoother, deeper and richer taste. Our tea is not 'just' a cup of tea. It's a conversation starter," she signs off.
With superior class tea leaves sourced from tea gardens of Assam, Darjeeling and Kashmir  Glenlicious sources most of its natural blends locally from the hill state.  In the not-so-far-future Glenlicious plans to introduce a range of Chocolate blends, Hot Chocolate blends and Coffee blends.  But for now, you are spoilt for choice: Rose Tea, Mint, Jasmine, Chamomile, Lemongrass, Immunity Boosting Tea, Peach & Apricot including Kashmiri Kahwa each packaged in attractive zip lock Swiss packs, Jars, Tea bags & variety of gift bags ready to be shipped to their growing number of customers across India.
To order now call: +91 72898 61166 or click on https://www.amazon.in/s?k=glenlicious+tea&crid=4PM8ILKP5WSI&sprefix=glenlicio%2Caps%2C157&ref=nb_sb_ss_ts-doa-p_1_9