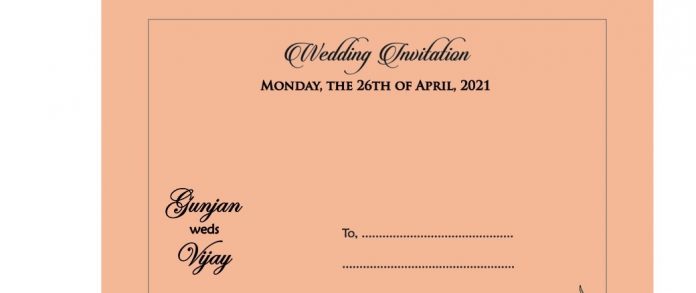 Dateline Mussoorie: All was going as planned. Venue booked. Date and time fixed. Menu set! Bridal finery finalised. Advance payments made. Wedding invitations gone.
Dr. Gunjan Bahuguna was set to marry Dr. Vijay Gairola on the 26th of April in Dehradun. Then like a tsunami, the second wave of Covid19 broadsided us all.
Without batting an eyelid, this simple, unassuming family took a call by sending off WhatsApp messages to announce that they had pushed the date of the wedding to when the situation was less alarming, a decision supported by everyone, from friends to family to invitees.
"It was tough call to take! It had to be done! For the wellbeing of our friends and guests come first,' Meera Bahuguna, the mother-of-the-bride to be, tells us.
Talking to Newspost, Dr. Gunjan Bahuguna says, "Since December 2020 we had been planning for our wedding. We have already made an advance payment of rupees five lakhs to-date, but all that is inconsequential." She happily interjects, "Postponement of our wedding is probably the best decision of my life. I would not like to risk anyone's life for the sake of getting married."
In the midst of the second wave of the pandemic we have seen and heard of could-not-care-less attitude in political rallies and the Kumbh Mela. Co-existing side-by-side are those that put aside family functions like weddings and celebratory parties. The writing is on the wall is there for those willing to read. And the message that comes through is loud and clear: 'Avoid crowds!' And that could well become the most powerful weapon to defeat this deadly scourge.
We sometimes underestimate the influence of little decisions, but their ripples can be extraordinary, and this young couple sure deserves all the plaudits and blessings for standing up for something they believed in.