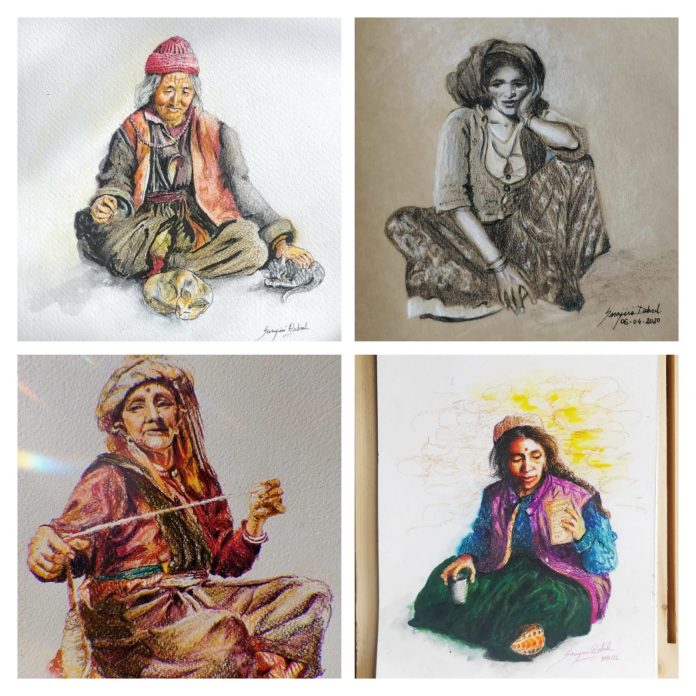 Dateline Mumbai: Scrolling through FaceBook  I came across a beautiful sketch by an artist friend.
Saru Dabral's varied artwork has always had that effect, irrespective of the medium she has chosen to express herself in, you find yourself asking for more of what she is upto. Living far off in Mumbai, Saru manages to bring alive the women-folk of her home state Uttarakhand in her art work, effortlessly. From acrylic, to charcoal and now to colour pencils, Saru has managed to hone her skills with each medium she chooses. A self-taught artist whose love for Uttarakhand shows through her work even when marriage took her to Mumbai, her heart is in the mountains.
With roots in Chamroli village in Tehri Garhwal, Saru Dabral was brought up in Delhi. Despite her brief stint with merchandising and fashion designing, it was her childhood passion for painting that finally won over. Two decades on, Saru has been painting professionally using oil paints, acrylic, water-colours, charcoal and steadtler watercolour pencils onto multimedia paper.
"It feels really good, fresh and light using pencils," Saru tells me. " I always like to try different mediums for art. And pencils are one my favourites. Pencils are our primary tool. And sometimes simple sketches speak volumes." And they do, I can vouch for that!
Dedicating anywhere between four to five hours a day, the artist in Saru Dabral feels like she is a beginner. She adds, "I just want to capture the expression and emotions as well as I can. There is a glimpse of my roots in whatever I put to paper and I try to do justice to my subjects which are mostly women."
Juggling home and hearth with her passion one wonders how Saru Dabral finds the time to do what she does with such finesse, she signs of saying, "If you are passionate about something; your passion helps you to manage everything."