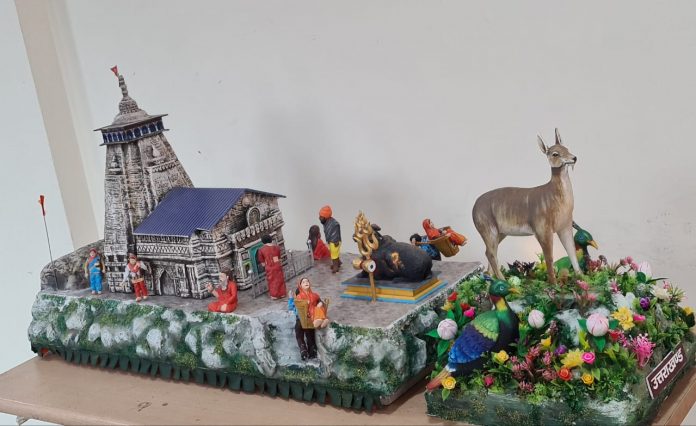 Dateline Dehradun: Good news! This Republic Day Parade at Rajpath, New Delhi will once again witness a tableau: Kedarkhand,  from the hill-state of Uttarakhand, one amongst seventeen states to make it to the grand parade.
Confirming the news, Director General, Information Dr. Mehrban Singh Bisht said, "Orders for this were issued by the Government of India on 5th January 2020." After five-rounds of detailed meeting with the Ministry of Defense, the tableau of the hill state was given a 'thumbs-up.'
This year, the theme of the tableau display is entitled 'Kedarkhand'. While the frontal part of the tableau will display the state animal 'Kasturi Deer', the state bird 'Monal' and the state flower 'Brahmakamal', the magnificent Kedarnath temple complex complete with the nandi and pilgrims will form the background of this colourful tableau.
The tableau's theme, design, model and music were hand-picked and successfully projected by Deputy Director, Information Department, KS Chauhan who explained, "the process for the selection of tableau design is a very complex one. Thirty two States including Union Territories participated in the selection arena, out of which seventeen states were finalized, with Uttarakhand being one of them."
Over the years, various tableaus from the hill-state have been a permanent fixture making their way down the Rajpath on the occasion of Republic day. 'Phuldei' in 2003, 'Nandrajajat' in 2005, 'Valley of Flowers' in 2006, 'Corbett National Park' in 2007, 'Adventure Tourism' in 2009, 'Kumbh' in 2010, 'Herbs' in the year 2014, 'Kedarnath' in 2015, 'Rammana' in the year 2016, 'Rural Tourism' in 2018 and 'Annashakti Ashram (Kausani Migration and Anashakti)' in 2019 gave a glimpse of the richness of Uttarakhand's diverse heritage and culture to the world.
Last year, a lot was spoken and written about the missing Uttarakhand tableau from the 71st Republic Day Parade held in New Delhi, but all that is now a thing of the past as 2021 has definitely started off on a good note for Uttarakhand.