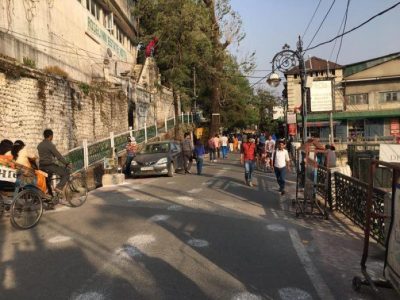 Dateline Mussoorie: In a joint meeting held by the Uttarakhand Hotel and Restaurant Association, Mussoorie Traders Association and Uttarakhand Taxi Union the concerned majority present spoke in one voice: Due to Covid-19 crisis the Tourism Industry does not see much hope in revival or even survival in the immediate and distant future, unless it is helped along by the State Government through various relief measures.
President of the Uttarakhand Hotel Association, Sandeep Sahni said, "Tourism Industry in Uttarakhand is the backbone of the state's economy. Today 99% hotels and restaurants are not operating, taxis aren't plying and shop sales are down by close to 80-90%. We are asking the State government whether we should open our hotels or not? What do we do with our existing employees? Their salary? Water and Electricity bills? Loans? House Tax? If we are not earning then what will we spend?
An appeal was made to both the Centre and State government to take emergency steps to revive of what is left of the hill-state's dwindling tourism industry. He further elaborated, "If the present trend continued then 30-50% restaurants won't reopen, 20-30% hotels will close down and this will have a cascading  affect on unemployment and mass migration too!"
Some relief measures, both big or small, by the State and the Centre specifically for the Tourism sector were suggested at the meeting. Seeking relief under various heads such as: salary and wages;  employee salary to be paid from ESI Funds; GST rate payment;  loan repayments and waiver of interest. How and why water and sewerage charges have been increased by 9% given  the present circumstances, has left everyone foxed.
Mussoorie Traders Association, President Rajat Aggarwal said, "In the past four months since Covid-19 lockdown came into place the State Government has not talked about traders or businessmen at all. In the past common labourers, rickshaw pullers etc were given thousand rupees as token by the State government but the small and medium traders have been completely neglected by the government."
Sundar Panwar, President Uttarakhand Taxi Association wonders: "Why were  taxes being levied on taxis under lockdown due to the orders of the Central Government ? Instead, interests on loans should be waived and a moratorium should be extended until 2021. There is no income, while expenditure remains the same."
Even as an uncertain future stares at them, people associated with tourism are looking for some respite from the government. It is hoped that they can stay afloat through the present pandemic.