Dateline Dehradun: Creating history! Born and raised in Dehradun Shardul Sharma has been chosen as the first Indian participant to compete in The Red Bull Romaniacs, recognized as the world's toughest enduro rally!
Entitled "In Madness We Trust" the event will be flagged off on 26th July, 2022.  Riding for the number one spot, Shardul will be competing with participants from over sixty countries at the five day event to be held in, Sibiu, Romania.
Considered as one of the toughest tracks in the world, The Red Bull Romaniacs has it all: Rough terrain of hills, valleys, mountains and rocky grounds that make up the track with inclines of over 50 degrees off-roading, it not surprising that only 10% of the participants actually cross the finishing line.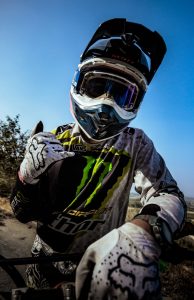 Shardul has always been a motorsport athlete and is as passionate as they come!  All of twenty-eight, Shas as he is fondly called by his riders, was born with an inborn talent for the sport. To further hone his riding skills,  he packed his bags and moved to Bangalore; learnt Kannada to speak with his fellow riders and worked as a Lead instructor at CS Santosh's Big Rock Park.
With a winning streak of over fifteen rallies to his credit such as Red Bull Ace of Dirt, Raid de Himalayas, Indian National Rallying Championship, Sjoba Rally to name a few. There is not stopping Shardul Sharma.
His driving buddy at the race with be his KTM 300 EXC TPI 2stroke, known for its razor sharp performance and equally unforgiving nature. Being the only Indian participate at the rally not only means breaking new ground, but also paving the way for two-wheeler racing.
He believes, "This sport is not for the faint hearted. It needs raw courage, stubbornness and courage.' He adds, "when courage takes over fear, impossible becomes possible."