Dateline Mussoorie: 'Tomb of Sand' written by Geetanjali Shree (translated by Daisy Rockwell) won the 2022 International Booker Prize for Translated Fiction, and made headlines all over the world, of course there is an interesting Landour, Mussoorie connection.
Turns out that Daisy Rockwell, the American translator did her three month Hindi advanced course at the Landour Language School in the late 80's early 90's. Chitranjan Datt, the Principal remembers Daisy as a, 'very bright and devoted student. She stayed with my family at Firs before she left for Allahabad for her research study."
Set up in 1903 the Landour Language School offers courses in Urdu, Punjabi, Hindi and Hindustani to research scholars, travellers and students from India and overseas. In a hundred odd years of its existence, over sixteen thousand students have learnt the ropes of Hindustani here.
Daisy belongs to Massachusetts and now lives in Vermont. She has translated many Hindi and Urdu classics like Upendranath Ashk's Falling Walls, Khadija Mastur's The Women's Courtyard, Bhisham Sahni's Tamas to list a few. Her work has brought home many accolades and awards.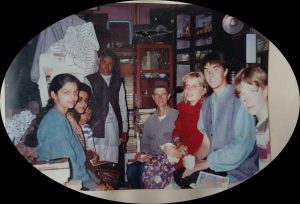 Tomb of Sand was originally written in Hindi as Ret Samadhi. It was one among the six shortlisted books for the International Booker Prize given to an author for their work written in an international language, then translated into English.
In Landour bazaar's narrow lanes lives Ayub the owner of 'Sabri: Bought and Sold.' In his antique shop he shows me a colour picture of Daisy dressed in a blue salwar-kameez wrapped in a red shawl.
Beaming from ear to ear, he remembers Daisy and her friends as regular visitors to their shop who sat around having tea with his late father.
"I was teenager when I last saw her in our shop. When I read about the Booker Prize I recognised Daisy instantly. I knew I had seen her before. She and her friends would come to the shop."  He recalls, adding: "Back then she was learning Hindi and would speak to us in Hindi."