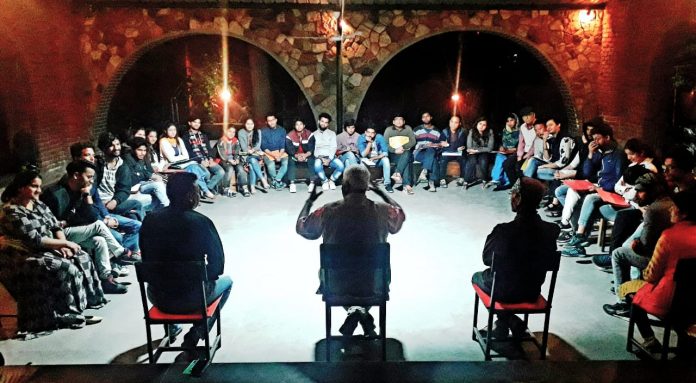 Dehradun, The school theatre at the Olympus High School, Dehradun came alive with two and a half hour long gripping play put together by 35 odd students.
This wasn't your regular school show. These children had trained under the best that the hill-state had to offer. National School of Drama conducted a month long theatre workshop and under the supervision of Shrish Dobhal of National School of Drama fame thirty-five novices from Delhi, Himanchal Pradesh, Uttarakhand and Uttar Pradesh were guided, assisted and polished in theatre art in this month long venture.
Giving it their all, some students skipped Holi at home, others gave up their Sundays to put in eight hours religiously learning nuances of theatre production from experts in the field.
Not only did the dedicated troupe complete the course with flying colours, they also brought to the forefront a production called "Garh Gatha-Mughal Shehzada." This historical play was based on the tumultuous times of Dara Shikoh's promising young son Sulaiman Shikoh in exile in Garhwal. After being obstructed by allies of Aurangzeb, Sulaiman Shikoh had to disband his army of brave soldiers and seek refuge in Garhwal, with just his family and seventeen skilled craftsmen-cum-soldiers in tow and of course his, treasure. Written by Mr. Kamal Rawat the play is based on historical events of 17th century, which highlights human values; principles, commitment and tolerance; amidst greed for power, treachery, disbelief and chaos.
Young artists Mahi Papra from Pithoragarh, Anoop Kumar Singh from Lucknow, Rakesh Arya and Sakshi Sharma from Dehradun along with Malliah Malla, were casted as main characters in the play.
A list of experts from various fields such as Acting Improvisation, Make-up, Theatre, Production and Designing Dr Suwarn Rawat, Sudarshan Juyal, C. Basavalingaiah, Prof. Devendra Raj Ankur, Dakshina Sharma, and Abhilash Pillai trained the young minds.
National School of Drama graduates like Himanshu B. Joshi and regional experts from Uttarakhand like Narendra Singh Negi regaled the students about folk element in theatre, Manorama Negi shared with them movements and choreography.  Dr. Manoj Rangarh taught them about Meditation in Acting. Anurag Verma along with Sanjay Badoni were Assistant Director and Coordinator for the workshop.
Former NSD Director Professor Devender Raj Ankur stated, "Uttarakhand has given many graduates to National School of Drama, it is the duty of an experienced artist to work towards the growth of theatre in their region, even if they are occupied with main screen cinema." Adding further, "theatrical events should be organised in Uttarakhand every year by various organizations or with the help of the State government to get Uttarakhand theatre recognition at national level."
And witnessing the audience reaction to "Garh Gatha-Mughal Shehzada," this initiative is a small step in the right direction.