Dateline Dehradun: Clinical trials are an intrinsic part of top quality, contemporary healthcare facility, and constitute a significant step in developing new treatments to improve human health.
At Himalayan Hospital, Jolly Grant the stage has been set for clinical trials covering a rage of diseases and conditions.
Formally inaugurated in the presence of experts, faculty, students and invited guests, the centre has been established to conduct clinical trial studies for the development of new drugs.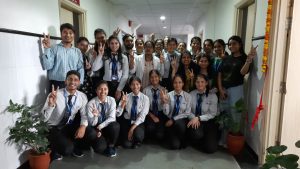 Vice Chancellor Swami Rama Himalayan University, Dr Vijay Dhasmana inaugurated the centre.
Clinical trials in India refer, to clinical research in which researchers test drugs and other treatments on research participants. As per rules of Government agencies (NDCTR 2019 and ICMR guidelines) it is recommended that all researchers conducting a clinical trial must publicly document it in the Clinical Trials Registry – India.
Dr Nikku Yadav and Arvind, Director Somaya Research and Health Services (SRHS) assured that trials will get underway as per various government laws, and the guidelines of the Drugs Controller General of India that grants approval for conducting clinical trials in India. The trials will be held in collaboration with Somaya Research and Health Services (SRHS) LLP, which is a unique site management Organization.
SRHS provider delivers operational and administrative support services to the clinical investigator at a research site. This includes everything from handling regulatory and compliance activities to managing patient recruitment and data collection. SRHS also provides support with study start-up, monitoring, and closeout. SRHS is working with pharmaceutical companies, biotechnology companies, clinical research sites, contract research organizations (CROs), and others to enable those organizations to deliver their research in a time-efficient manner.
"The clinical trials will be conducted at the centre for multiple indications. Our doctors will be involved in the development of new drugs and also, the students of clinical research will benefit from in-house hands-on experience of clinical trials," averred Dr Vijay Dhasmana. ."
Present on the occasion were Dr Vijendra Chauhan Pro Vice Chacellor SRHU, Dr Sunil Saini Director CRI, Dr Susheela Sharma Registrar SRHU, Dr Mushtaq Ahmad Director HIMS, Dr Rajendra Dobhal Director Strategies and Planning Research & Development, Dr SL Jethani CMS Himalayan Hospital, Prof CS Nautiyal, Dr Sanjay Gupta, Dr Vinita Kalra, Dr SK Verma, Dr Yashpal Singh, Dr Nikku Yadav, Dr Asha Chandola-Saklani, Dr Rajeev Bijalwan, Dr Deepshikha, Dr Vidisha, Dr Girish Gupta, Dr Suman, Dr Taruna Sharma, Dr Abha Srivastava, Dr Abhishek Kandwal, Dr Vipul Nautiyal,  Prabhjot Kaur,  Abhishek, Kavi and Clinical Research and Epidemiology students. The members from SRHS were Arvind Kumar,  Shubham Tomar and  Nidhi Yadav.