Dateline Mussoorie: In honour of World Mental Health Day, on the 10th of October, Woodstock School's counselling department and mental-wellbeing team organized an inter-active event to raise mental health awareness in Mussoorie and its surrounding localities.
The event was focused on raising mental health awareness not only in the hill-station but in rural areas surrounding it as well. A specially curated session took place in Thatyur, in association with Landour Community Hospital with students from five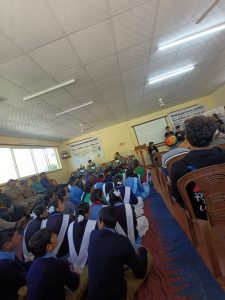 government Inter and Degree Colleges attending in full attendance, along with teachers, parents; senior citizens and village dignitaries. The students of Woodstock School presented a skit that showcased various day to day mental health related scenarios that young children might face, and wrapped it up with a presentation focusing on some tips and tricks regarding mental health. This was followed by short performances from the local schools, which showed the growing importance and acceptance of mental health.
Woodstock's students have done a series of similar events in the past. Most recently, they visited fellow students at St. Georges College,  another boarding school in Mussoorie, and discussed in-depth the mental health issues that might affect boarding school students.
Talking to Newspost, Binu Thomas Head of Personal Counselling, Woodstock School reiterated the fact that, 'Schools offer a major role in strengthening and supporting the overall well-being of a child. Post Covid, the student population around the world is struggling hard to deal with emotional issues.'
The participants as well as the audience had many questions and concerns which were adeptly addressed by the counseling team who promised to keep them abreast in the near future as well.