Dehradun, 14 year old Aastha, President of Children's Group in Badhkote, in Vikas Nagar Dehradun is leading by example. The young, dynamic girl has brought about a positive change in her environ by curtailing the use of plastic.
In June this year, the young girl along with 24 other friends from various Bal Sangathan's attended a training session put together by Mountain Children's Foundation (MCF). The session taught the children the art of making hand-made paper bags from old newspapers. One were simple bags used at grocery shops and the other more decorative bags for wrapping gifts.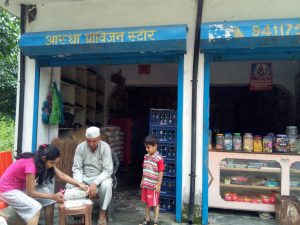 Returning home, Aastha put her new taught art into practice. She taught members of her own Bal Sanghatan to make these useful paper bags, and use them instead of plastic.
Starting from home, Aastha convinced her grandfather who owns a provision store in the village, to use handmade paper bags instead of plastic bags. On weekends, she even taught her doting grandfather how to make paper bags, which he now happily puts to use in his shop.
Following July, when her school held a craft session asking students to make something useful out of newspapers, Aastha presented her paper bags. Her teacher and Principal were impressed with her presentation and asked her to teach the entire class. Together they made more than 500 handmade paper bags that were donated to shop keepers, big and small in Badhkote, requesting them to reduce the use of plastic by switching to bio-degradable alternatives like newspaper bags, which they warmly accepted.
Aastha is one amongst millions who have taken upon themselves to reuse and recycle what we would consider trash. Her positive outlook and determination to be the change, ensures us that our future is in safe, young hands who put Nature before themselves.