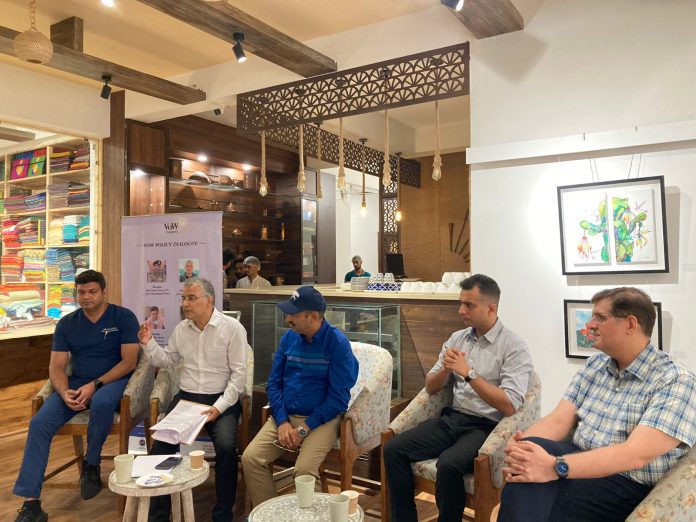 Dateline Dehradun: State Director General of Police Ashok Kumar described the increasing road accidents in Uttarakhand as a matter of great concern for the state. He said, "on an average 200 people are murdered in the state every year, whereas five times more i.e. about 1000 people die in road accidents." The DGP was speaking on the topic 'Road Traffic Accidents in Uttarakhand' in the 4th VoW Policy Dialogue organized by PHD Chamber of Commerce and SDC Foundation at VoW Cafe. Also on the panel were Dr. Madhur Uniyal, Assistant Professor Trauma Care from AIIMS Rishikesh and senior journalist Gaurav Talwar.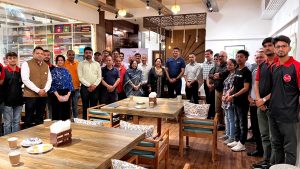 DGP Ashok Kumar said, "one of the major reasons for road accidents in the state is the increasing traffic pressure on the roads. At the time of formation of Uttarakhand, the number of vehicles was about 4 lakhs, whereas now it has increased 8 times to 32 lakhs."  He also cited drink and drive, over speed and overloading as major reasons for road accidents.
Senior journalist Gaurav Talwar said,"if we analyze the statistics of road accidents in the state, it is found that the nature of road accidents is different in the plain and hilly parts of the state. In plain areas, where two-wheeler accidents are more frequent, larger vehicles are more prone to accidents in mountainous areas." He emphasised on different strategies from the hill and plains to prevent road accidents. He stressed the need to effectively curb over speed and rash driving.
Dr. Madhur Uniyal said, "If we analyze the statistics of deaths and injuries of working age people in accidents, Uttarakhand has the highest disability-adjusted life years across the entire country." He further added, "We are limited to over speed and drunk and drive, while there are many other reasons for accidents. Zero fatality corridors are being built in many parts of the country. There is a dire need to build such corridors in Uttarakhand."
The VoW Policy Dialogue was co-chaired by Hemant Kochhar, PHD Chamber of Commerce, Uttarakhand Chapter and moderated by Anoop Nautiyal of SDC Foundation. DIG Traffic Mukhtar Mohsin, SP Traffic Dehradun Akshay Konde, Rashmi Chopra, Venu Dhingra, Sanjay Bhargava, Ashish Garg, Ganesh Kandwal, SS Rasayali, Paramjit Singh Kakkar, Vishal Kala, TN Jowhar and otherswere present in large numbers in the program.