Dateline Uttarkashi: A three day festival by the Himalayan Baudh Sanskriti Sanrakshan Evam Vikas Samiti was held in Virpur, Dunda in Uttarkashi district.
During this occasion, a parikrama of the Lord Buddha's portrait followed with the chanting of the holy scriptures of Prajnaparamita (Perfection of transcendent wisdom) aka Yum Chenmo  was carried out through the length and breadth of the village by the community who prayed for world peace.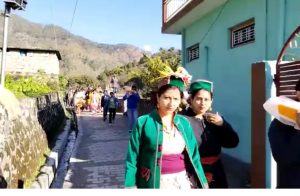 The scripture consisting of 100,000 line manuscript was recited by the Buddhist monks, nuns, and the villagers for the entire duration of the  festival. The hill-folks, young and old  came together to be part of the festivities, dressed in their traditional  attire.
As the sunset behind the might mountains, the evening celebrations came alive with the community performing their traditional Gorshey folk dance with such enthusiasm that it left left the audience spell-bound.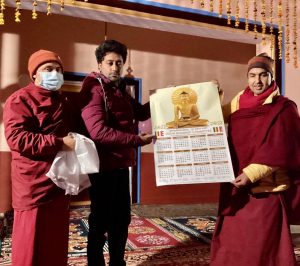 Throughout the event, free vegetarian meals are offered to those who took part in the festivities. To encourage young minds to learn about their customs and traditions,  a dhamma written test was conducted amongst children with prizes for top winners.
In appreciation of those who have made notable contribution to the society, individuals or organisations are honoured and felicitated with a traditional white scarf (khada) and a gift or memento, in the presence of a highly learned lama who gives discourse of Dharma. The award this year was given to Shri Ambika Lal Azad (President of Himalaya Baudh Samaj Uthdhaan Mahasabha, Uttarkashi) and Shri Subhash Chand (teacher) for their notable contribution to the society.
A delegate from Doon Buddhist attended this special program and  offered the New year wall hanging calendars to every family of the community.
The efforts and the vision in organising this annual festival towards the end of January,  uninterrupted for decades by the elders of the community spoke volume of their resolve and commitment to preserve their culture.