Dateline Uttarkashi: High up in the inner Himalayas, a long-forgotten tradition is being kept alive by a handful of villages. After a long monsoon, a fleeting autumn makes it presence felt in Uttarakhand and in the higher alpine meadows of the hill-state, winter shall march within a few weeks. But before that happens, village folks of Uttarakashi celebrate Selku or bid the monsoon goodbye.
In summer, when the snow starts melting in the upper reaches, a variety of wild flowers turn the alpine meadows into a carpet of flowers. Winter's seeds spring forth into Brahmakamal, Masi, Rhododendron, Wild ginger, Lilies and many others. With the onset of monsoon, there are splashes of colour on the jade green hill-side, that take your breath away. Then autumn, comes to be followed by winter when the hill-side are bereft of any flowers. But just before that brief change in season, a unique tradition is kept alive in Taknaur and Nald Kathud villages of Uttarkashi district.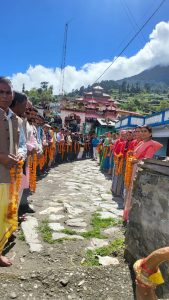 Celebrating Selku, hill-folks from these particular villages hand-pick these flowers as offerings to the local deity of their village. Temples are decorated with a carpet of flowers that are an offering to the deity. It is a welcome to autumn and heralds the long dry spell of winter that stretches ahead.
Today, Taknaur and Nald Kathud along with other villages in the vicinity, considered amongst the oldest settlements in the area follow this century old tradition. Selku is celebrated in the second week of September where along with menfolk, married daughters from other villages return to their parental home to dance the night away under the stars to evoke the blessings of their deity.
This night-long celebration called Selku (which translates into 'who will sleep?') bids goodbye to greenery as well as it evokes the blessings of the local deity. Through the night, men and women gather around the temple, dressed in their traditional attire and dance away the night to the rhythm of the dhool and damaun on a veritable carpet of wildflowers seeking blessings.