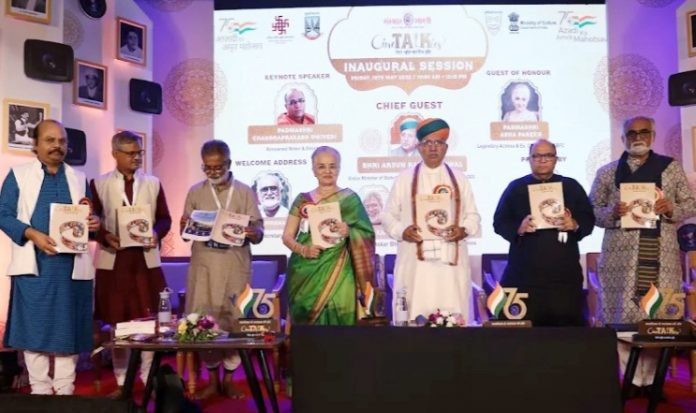 Sanskar Bharti, a well-known organisation working towards the promotion of Indian art and culture worldwide along with the Academy of Theatre Arts, Mumbai University, and IGNCA celebrated 75 years of Independence and the contribution of Indian cinema towards it.
In the first of many to the lead up a two-day seminar, Cine Talkies: Azadi ka Amrit Mahotsav was flagged off in Mumbai today.
Arjun Ram Meghwal, Union Minister of State for Culture and Parliamentary Affairs, inaugurated the event in the presence of a galaxy of key dignitaries namely Padma Shri Awardee Asha Parekh, Renowned writer-director Padma Shri Chandraparaksh Dwivedi, Mr Sachinand Joshi, Member Secretary, IGNCA, Dr Suhas Pednekar, VC, Mumbai University & President Sanskar Bharti along with Shri Vasudev Kamanth among others.
Shri Arjun Ram Meghwal said, "We should not forget the sacrifices of the freedom heroes, and the films that have played an immense role in keeping the same zeal and memory alive over the years." He further added, "I appreciate Sanskar Bharti for creating a platform to celebrate the 75 years of Independence. This is truly going to bring light to our country's beautiful Independence journey, today surely is the 'Azaadi ka Amrit Mahotsav'."
The Encyclopaedia on Bharatiya Cinema was launched along with the Cine Talkies Souvenir which marks its first-ever conclave on the contribution of the Indian film industry to the Indian freedom struggle.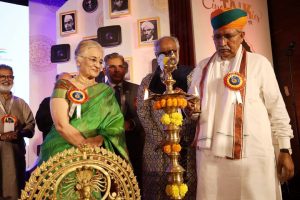 Congratulating Cine Talkies, Padmashri Awardee Shrimati Asha Parekh said "I congratulate Sanskar Bharti for adopting this beautiful conceptualisation and making it into a grand celebration. Our country is a diversified collaboration of language, art, cultures, society, and most important folk art. Sanskar Bharti is doing a commendable job in creating awareness among the common man of our country."
A conversant presentation on film makers who were a part of the freedom struggle was presented by Dr. Pradeep Kenchanaru. Followed by a panel discussion moderated by Mr. Rakesh Mittal on Dada Saheb Phalke's motivation, vision and art with Mr. Paresh Mokashi, Mr. Kamal Swaroop, and Mr. M.K Raghvendra. The second-panel discussion was moderated by Ms. Runa Ashish Bhutda, with keynote speakers: Mr. A.K Raveendran, Mr. Manoj Muntashir, and Mr. Subodh Bhave, talking about 'Patriotism as a driving force for Indian Cinema.'
Anurag Verma, associated with Himalayan University and Sanskar Bharati Uttarakhand felt that along with better film subjects; better techniques and treatment for film production was the need of the hour. He reiterated the fact that in the near future Sanskar Bharti would organize workshops across the country to work on these lines.
Manvee Nautiyal, Representative of Sanskar Bharti Uttarakhand and Himalayan University expressed her concern about independent film makers. She felt that their contribution should not be forgotten and be recognised across different platforms.  Adding that films that showcase our rich heritage, bravery and real heroes of our country should be encouraged.