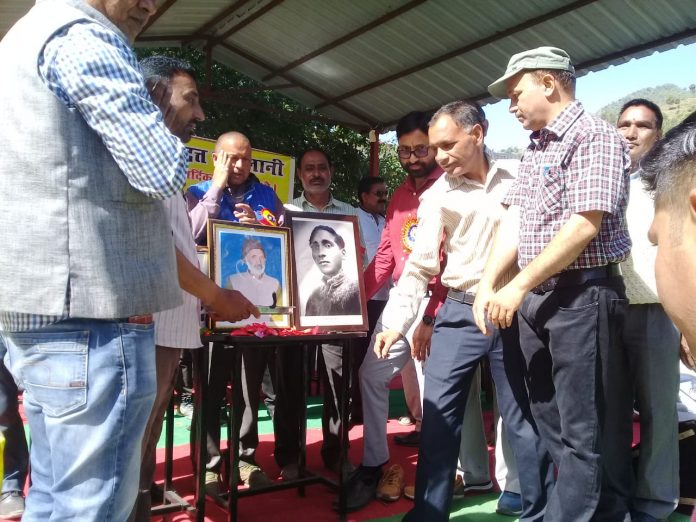 Tehri, In memory of martyr Nagendra Dutt Saklani,  veteran freedom fighter and revolutionary leader, who gave the supreme sacrifice while leading a peaceful demonstration of over a lakh people against the King of Tehri Garhwal on 11th January 1948 at Kirti Nagar, Tehri Garhwal  an annual fair was organised at his native place Satyoan,Saklana, Tehri Garhwal.
Celebrated annually on the occasion of Chaudagati Baisakh i.e.28th, this year the occasion was graced by Hon'ble MLA of Dhanolti Pritam Singh Panwar. Pritam Singh Panwar inaugurated the fair and paid tribute to Shri Nagendra Dutt Saklani and his younger brother Vriksha-Manav or Tree-Man Shri Visheshwar Dutt Saklani. He highlighted the contribution of the two veterans in their respective fields, one for freedom and the other towards the society and environment. He added that, "their work will be cherished and remembered by the future generations to come."
Shri Mahavir Singh Rangar Chairman, Garhwal Mandal Vikas Nigam, District President of BJP paid floral tribute to the two siblings who gave such valuable contribution towards the society. He encouraged the youth to follow their ideals and spread their message.
Among others who paid tribute were Shri Akhilesh Uniyal, Gambir Singh Negi, Bharat Singh, Manohar Lal Saklani, Santosh Saklani, Digvijay Uniyal, Gram Pradhan of Jadgoan Shri Onkar Singh, all Gram Pradhan of Saklana, respected people and senior citizens.
There was a huge public gathering on the occasion and the event was celebrated with great zeal and fervour.