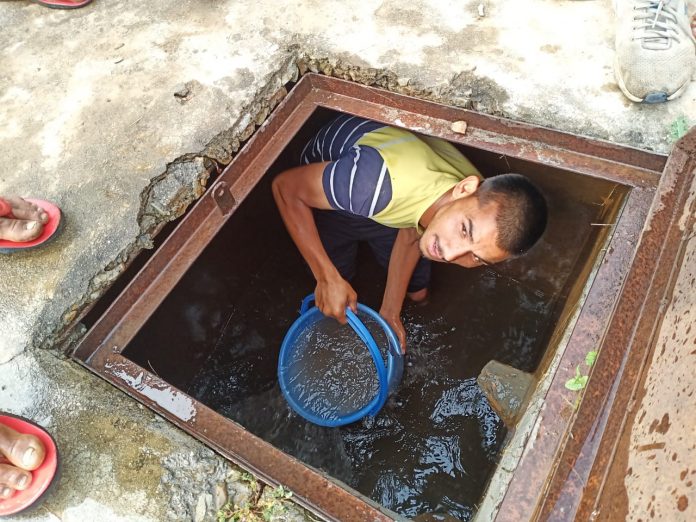 Dateline Tehri: While most folks have concentrated efforts to fight the pandemic, others have broken new ground by going to villages in the hills with the mission to clean water tanks that are the lifeline of those who live here.
Virendra Verma with his team have taken up this task after getting permission from Dhanaulti Deputy District Magistrate, Sandeep Tiwari, IAS. With shramdaan and their personal contribution for travel and equipment, these young men has set about cleaning water-tanks, big and small. Water borne diseases will no longer haunt an unsuspecting public.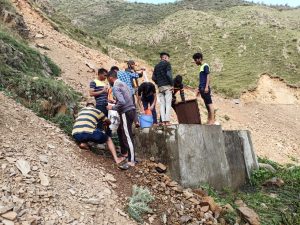 Thus far, over the past few weeks, the team has been able to clean forty water-tanks. Starting from Gram Panchayat Siya, they have moved on to other places in the Jaunpur block like Bungalow ki Kandi, Jinsi, Nawadidhar, Lagwal, Rayat, Bhatoli Bhedian, Binau, Kherad, Bichhu village panchayats.
Along the way, others have joined Virendra and his team. They have no hesitation in entering these tanks. It is no easy task to clean the sludge accumulated over the years, then washing the tanks thoroughly and liberally sprinkling bleaching powder in and around the tanks. This ensures that the locals get clean water for drinking, cooking and bathing etc.
Recently, under the Gaon Gaon Jal Jeevan Mission, new pipelines replaced the older ones, but the concrete tanks once built, were not on their radar. While local representatives blame the concerned department for its apathy most of them refuse to help or assist the team in any which way.
Today, Virendra Verma and his team wish to continue this noble deed before the rains set in. What is required are funds to go towards travel and for buying essential equipment that is required to clean up as many water tanks as possible.
Please contribute:
Name: RITIK JOSHI, ACCOUNT No: 15042413000192, IFSC: ORBC0101504