Rishikesh, The memories of the Beatles, one of the greatest musical groups ever, remain neglected in the Himalayan town of Rishikesh. It is here in Maharishi Mahesh Yogi's Ashram, which was the single most productive capsule of time in their careers where the Beatles stayed in 1968 and penned 48 memorable songs.
Until recently, this fifteen-acre ashram on the outskirts of the city lied in utter neglect. Surrounded by tall weeds and targeted by vandals and wildlife. From being what once was a derelict ruin Chaurasi Kutiya or 84 independent meditation rooms/halls built in stone has been revived as one of the most-visited destinations in Rishikesh.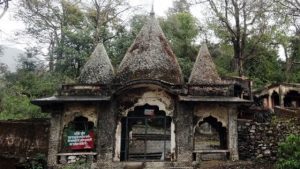 The Beatles Ashram, Maharishi Mahesh Yogi meditation centre of the Chaurasi Kuttiya, call what you may, has been a symbol of how half a century ago, the West came and meditated on the banks of the Ganges.
Senior Journalist Raju Gusain and an expert on the Fab Four's 1968 visit to the ashram talks with pride, "the shift in focus is already showing positive result. Positive reports about the ashram got published in over a hundred foreign dailies and publications, which has seen an influx of foreign tourists. 5000 foreigners visited the ashram last year, compared to 818 tourists from foreign shores in 2017. Revenue too has more than double–fold, from 20 lakhs in 2017 to 78 lakhs in 2019."
What has added more value to the place is a gallery with 23 photos by Paul Saltzman dedicated to the memory of the Beatles. A second gallery dedicated to the memory of the man behind the place Maharishi Mahesh Yogi and his teachings, last but not the least Forest Department too has put up a personal gallery which boosts of the wildlife which the ashram homes.
Other facilities include a Cafeteria that caters to the need of those who come visiting from 10:00- 5:00 p.m. A solar fence protects the area from the entry of Pachyderms and feline cats, which once roamed freely within the campus.
A three-year break down of tourists visiting Chaurasi Kutiya shows the growth in the numbers of tourists from home and abroad and the income hence:
2017
1) Indians: 13, 888
2) Foreigners: 818
3) Income earned: Rs 20, 33, 175
2018
1) Indians: 23,852
2) Foreigners: 3,939
3) Income earned: Rs 50.51 Lakh
2019
1) Indians: 35,291
2) Foreigners: 5,388
3) Income earned: Rs. 78.45Lakh
'Where there is a will, there is a way,' the State Forest Department and Tourism Department worked insync to bring to life the derelict Beatle's Ashram/ Chaurasi Kutiya and the positive result is there for everyone to see.