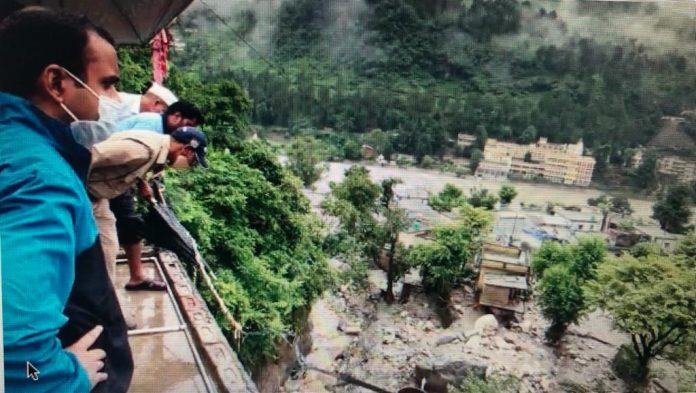 Dateline Uttarkashi: Last night heavy rainfall lashed the interiors of Uttarkashi in which  three people lost their life and many are feared trapped under debris in Mandu, a small hamlet in the district.
While the district machinery is working on war footing, incessant rainfall through the night and following morning has affected relief and rescue. District Magistrate Mayur Dixit, who reached the site said, "Linking roads to the village have been swept away. We are looking for those feared trapped or missing. Ration is being distributed to those affected by the sudden deluge."
The injured were rushed to the district hospital and the administration was working on clearing roadblocks, landslips to ease relief and rescue. Broken pipelines, electricity poles have been adding to the misery of those affected.
Not new to incessant rainfall, especially during monsoon, Uttarkashi has been witnessing frequent disasters caused by heavy rainfall or cloud bursts.
On the 3rd and 11th of May extensive damage was caused to property by incessant rainfall in hill-districts of Tehri Garhwal, Rudraprayag, Uttarkashi and Chamoli. A dry winter followed by a brief, yet drier summer in April and May makes for perfect recipe for disaster that then leads to loss to life and property.
Every year, every monsoon, the government machinery and its policymakers are put to test by nature's fury. Solutions and policies come into action to reduce or minimize the affects of such disasters to life and property, but that may not always be the case.