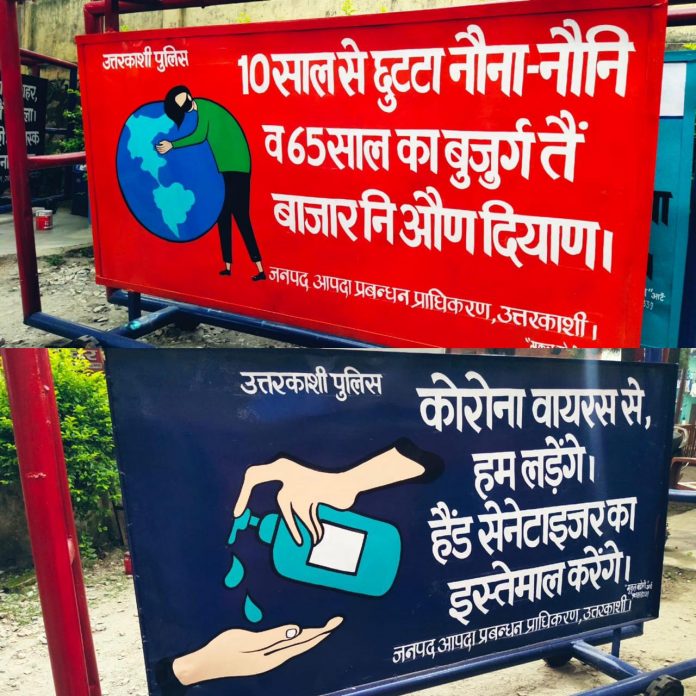 Dateline Uttarkashi: No sooner do you enter the hill-district of Uttarkashi from Dharasu's Nagur entry point, as you await your turn for the compulsory medical check-up and registration formalities, you will find it hard not to miss the colourful public awareness police pickets or barriers put up to welcome the visitor.
Over a dozen such barriers with Corona related slogans now dot all police stations across the district. An innovative SP Uttarkashi Pankaj Bhatt talks to us about the thought behind the initiative: "We realized that when people read awareness slogans in their regional language, it makes a better connect and has a deeper impact on them. It makes them feel motivated enough to follow do's and don't's that need to be followed in these times. "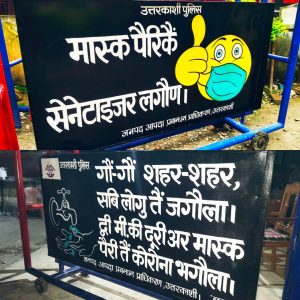 Corona awareness slogans and their designs were shared with local talent in Uttarkashi by the police administration. These artists in turn let their imagination run free through the gamut of their creativity. The result of this novel are these on view: short, crisp slogans in Garhwali remind people to wear face-masks, use sanitizers, maintain social distancing, to take care of elderly and young children alike. You will find slogans splashed across police barriers, strategically placed at entry points. These pickets not only add more than just colour to the place but also help in motivating and spreading awareness amongst its citizenry entering the district.
Images of three police pickets at Dharasu have gone viral on the Internet. Citizens have applauded the efforts of this unique approach by a friendly police force in spreading public awareness in times of the present pandemic.
SP Pankaj Bhatt assures us: "Seventeen more such barriers are being readied by local artists out of which twelve are ready and waiting to be placed at various police stations in the district."