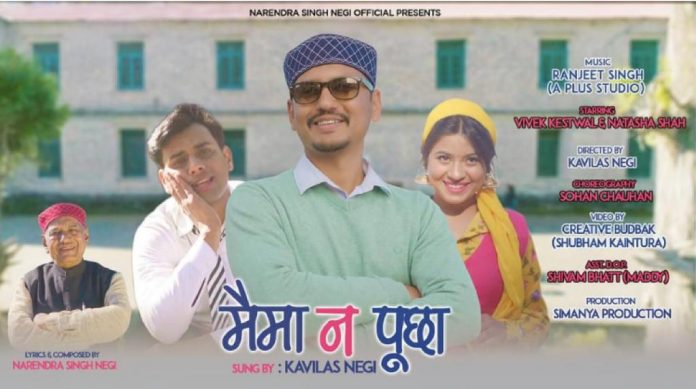 Dateline Pauri: 'Mai ma na Pucha,' composed and written by Narendra Singh Negi, Uttarakhand's iconic singer was released on the singer's official YouTube channel today evening.
The close to five-minute romantic Garhwali song has been sung by thirty five year old Kavilas Negi, Narendra Negi's son. Talking about his latest release Kavilas tells us, "It has been over ten years when I first sang a duet with my father 'Dehradun walla.' This is my first solo video song, which has not only been sung by me but directed as well."
Shot exclusively in Pauri's landmark institution the Mesmore Inter College as its backdrop, the romantic number is brought alive on the screen by talented, young artists Vivek Kestwal and Natasha Shah, who plays the young lad's love interest. Produced under the Smanya Production banner, the video has been shot by Creative Budbak using drones, which highlights the picturesque hill station of Pauri, overlooking the longest range of the snow-clad Himalaya.
'Mai ma na Pucha,' by Narendra Negi, Music arrangement by Ranjit Singh, sung and directed by Kavilas Negi has the making of a blockbuster song amongst the growing number of fans of the father and son duo, especially the youngsters.
At present, Kavilas has his hands full as he is busy promoting his father's online YouTube channel Narendra Singh Negi Official, and he adds, "I might take my singing career forward. All that depends on the public response. It is them who will chart my way forward."
If you are die-hard Negi fan, do hit the link below: