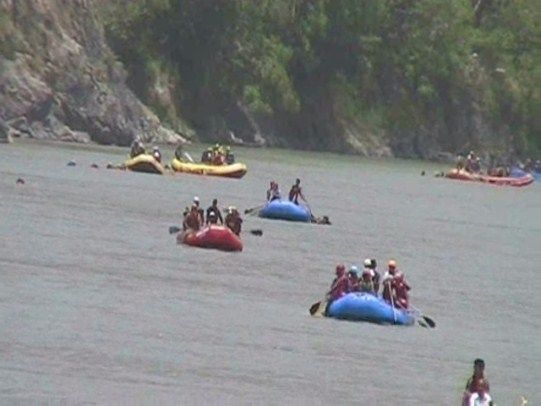 Dateilne New Delhi: At the Annual General Meeting and Elections held by Adventure Tour Operators Association of India (ATOAI), Uttarakhand's Vaibhav Kala, Managing Director, Aquaterra Adventures was elected as Vice President, along with Uttarakhandi Arvind Bhardwaj  and Ajit Bajaj making it into the Executive Committee.
ATOAI a.k.a "Adventure Tour Operators Association of India" is a recognized nodal body for promoting adventure tourism in India. The association has been working with Central and State governments to make policies and set standards for safe and sustainable adventure travel in India.
Conceptualized in 1994, ATOAI has over four hundred and seventy five adventure travel professionals from the industry.
Apart from resolving issues impacting adventure tourism, ATOAI objectives remain to bring more adventure tour operators into the mainstream of Quality and Responsible Tourism Practices. Getting states to adopt ATOAI's safety guidelines, prioritizing operational risk assessment within the membership, conducting skill development & capacity building workshops in association with state tourism departments and local associations. Running educational seminars and FAM tours for members, fostering new and innovative adventure tourism products and creating a pool of trained human resources within the industry.
ATOAI seeks to reduce environmental impact on India's natural resources, check mass- tourism in our remote locales, and take active measures to help reduce accident rates as a result of mass-tourism.
ATOAI will further set up a dedicated task force of Women Entrepreneurs within the membership and also introduce an ATOAI Mobile App showcasing India's adventure activities in conjunction with a revamp of the ATOAI website.
Office Bearer's:
PRESIDENT – Mr. Vishwas Makhija, Managing Director – M/s India Insight Tours Pvt. Ltd.
Senior VICE PRESIDENT – Mr. Rajesh Ojha, Managing Director – M/s Banjara Camps Pvt. Ltd
VICE PRESIDENT – Mr. Vaibhav Kala, Managing Director – M/s Aquaterra Adventures India Pvt. Ltd
HON. SECRETARY – Mr. Vinayak Koul, Director – M/s Snowlion Expeditions Pvt Ltd.
HON. TREASURER – Mr. Pradeep Murthy, Director M/s – Muddy Boots Vacations LLP
Executive committee member's: – 
Swadesh Kumar – Shikhar Travels Pvt. Ltd
Commander Sam T Samuel – Kalypso Adventures Pvt. Ltd.
Ronny Singh Gulati – Youreka Campouts Pvt. Ltd.
Nirat Bhatt – Nidus Enterprises Pvt. Ltd.
Nadeem Sheikh – Sea & Sky Travel (India) Pvt. Ltd.
Arvind Bhardwaj – Red Chilli Adventure Sports Pvt. Ltd.
Milind Bhide – Countryside Adventure Holidays Pvt. Ltd.
Tejbir Singh Anand – Holiday Moods Adventures Pvt. Ltd.
Ajeet Bajaj- Snow Leopard Adventures Pvt. Ltd