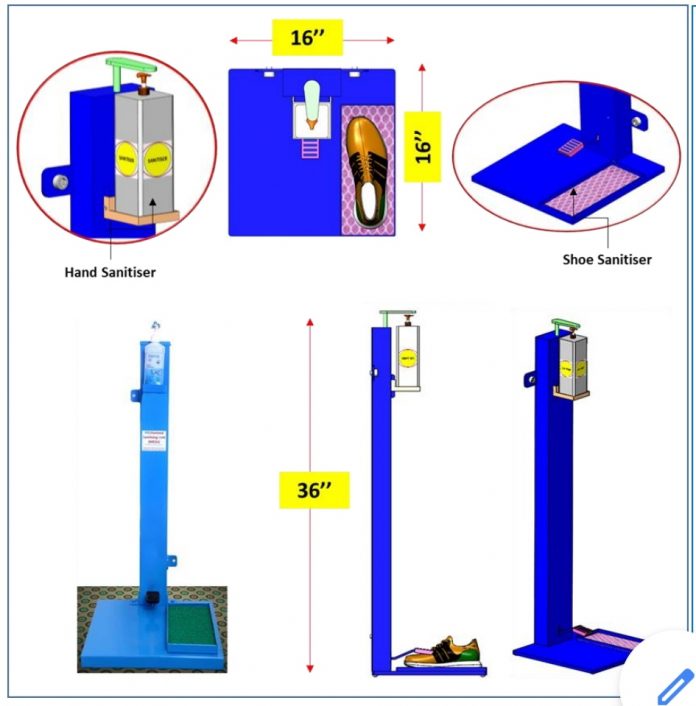 Dateline Dehradun: One can hardly comprehend what a scientist with nineteen years of experience in the field of Design & Development of Stabilisation Technology for Military Grade Electro Optical Gimbal Systems for Tanks, Helicopters, UAVs' & Ships would have in common with two Covid-19 innovations.
DRDO Scientist, Shabir Ahmed a resident of Leh Ladakh, though based in Dehradun has, within fifteen days, developed two handy machines to fight the present pandemic. On 17th of April this year, Shabir donated a Mechanized Hand Wash Unit or MHWU to the Chief Minister of Uttarakhand and now he has come out with MESU or Mechanized Sanitizing Unit. Completed within seven days from its feasibility study, technology gap, conceptualization, design, mechanical structural analysis.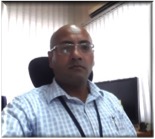 The Mechanized Sanitizing Unit or MESU is a foot pedal operated unit that has an alcohol based hand sanitizer as well as a footwear-sanitizing unit.
With just a single stroke of a foot pedal, approximately 10 ml of hand sanitizer is dispensed from the dispenser to the user's hand without physical contact. After hand sanitization, the shoe-sanitizing unit, an integral part of the machine, consists of a non-reactive sponge material dipped with sufficient amount of sanitizing chemicals sanitizes our footwear.
What makes the machine perfect is its size and weight. 16×16 inches at the base with a height of 36 inches – all in all, it weighs less than 8 kg and the unit fits any shoe size.
As Shabir Ahmed maintains: "It requires no electricity or any other source. It can be mounted on the wall and moved easily. The foot pedal is very soft and can be operated by children and senior citizens, alike, with the flow of sanitizer controlled with the pedals."
Shabir Ahmed, will be donating three MESUs to the Health, Police and the State Administration because they have been frontline warriors against Covid-19. He hopes that his machines will go a long way in fighting against the virus.