Dateline Pithoragarh: Next summer during end of March to May, Pithoragarh's Tulip Garden should be on your bucket-list or places that must be visited.
In what started as a pilot project by the Forest Department under the eagle eyes of the DFO Dr. Vinay Bhargav, some seven thousand-tulip bulbs were planted at the Munsyari Eco Park last year. The flowers have since then bloomed in all their glory, against the backdrop of the snow laden Panchachuli mountain range making this riot of colours, a sight to behold.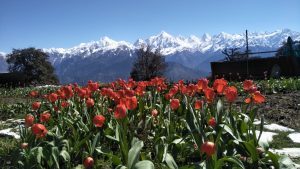 Talking to Newspost, Dr. Bhargav shares the idea behind the initiative: "Under the inspiration of Chief Minister of Uttarakhand, the Pithoragarh Forest Division with mutual support of the District Administration came up with the model to work on basic objectives of preventing migration in the border areas, promoting livelihood opportunities and developing self-employment in community owned business model."
At an altitude of 2,460 meters, Pithoragarh's elevation and weather make it the perfect combination for Tulip bloom in the region.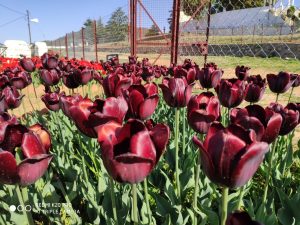 Now a joint venture of the Forest Department along with the Tourism Department, assisted by the Horticulture Department and Rural Word Department some twenty thousand bulbs, of five varieties: Queen of Night, Hakuun, Laptop, Abba Red and Close to Red Impression's were brought in from Netherland and planted in and around Pashupatinath Temple, in Chandak region, some seven kilometers from Pithoragarh.
Amit Lohani, District Tourism Officer, Pithoragarh tells us: "The idea was born when the Chief Minister announced 13 Districts and 13 new destinations. It was decided that under this a Tulip Garden would add to the attraction of the area." He adds: "On a trial basis, tulips were planted on a thousand square meter land and seeing its success, we have now decided to go big. Come September, once paper formalities are over, we are going to go in to plant tulip bulbs in 10 hectares forest land in the periphery of Pashupatinath and Moshtamanu Temple and create Uttarakhand's one and only Tulip Garden."