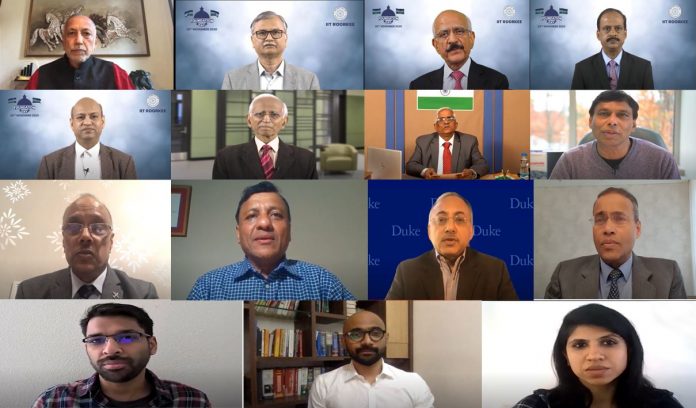 Dateline Roorkee: Indian Institute of Technology (IIT) Roorkee commemorated its  Foundation Day on 25th November through an online mode. Shri RS Pawar, Chairman, NIIT was the Chief Guest on the occasion.
The programme started with the kulgeet i.e. institute song of IIT Roorkee and a welcome address by Prof. BR Gurjar, Dean of Resources and Alumni Affairs (DORA). For the year 2020, three alumni have been conferred with the Distinguished Young Alumnus Award, whereas seven alumni were the recipients of the Distinguished Alumnus Award.
Prof. Ajit K. Chaturvedi, Director IIT Roorkee stated that on this day in 1847, the prospectus of the 'Civil Engineering College at Roorkee' was notified with the approval of James Thomason, the Lt. Governor of North-Western Provinces. This was also the day on which we became University of Roorkee in 1948.
Padma Bhushan Shri R. S. Pawar, Chief Guest&Chairman, NIIT, said "I extend my heartiest wishes to the entire IITR fraternity on the 173rd Foundation Day and congratulate distinguished alumnus awardees. This is the century of mind and IIT Roorkee's faculty, students and alumni can play an important role to make significant contributions in it."
Shri BVR Mohan Reddy, Chairman BoG, IIT Roorkee said " All of us are proud of the institute's 173 years of a glorious heritage. We owe this to the amazing contributions of our students, faculty, administrators, and policymakers. Our teachers and researchers exhibit an unwavering commitment to their professions and devotion to academics. On this occasion, let us remember them and offer our gratitude."
Distinguished Young Alumnus Awards
Ms. Aarti Gill (2008 – B.Tech. – Electronics & Communication Engineering)
Mr. Rahul Sharma (2012 – B.Tech. – Electrical Engineering)
Mr. Sachin Gupta (2012 – B.Tech. – Computer Science Engineering)
Distinguished Alumnus Awards
Prof. S. C. Handa (1966 – M.E. – Civil Engineering)
Mr. Raja Ram Singh Yadav (1975 – B.E. – Mechanical Engineering)
Mr. Naveen Jain (1979 – B.E. – Industrial Engineering)
Mr. Prakash Kumar Singh (1979 – B.E. – Metallurgical Engineering)
Prof. Ajay K. Agrawal (1980 – B.E. – Mechanical Engineering)
Prof. Pankaj Agarwal (1982 – B.E. – Electronics & Communication Engineering)
Mr. R. Mukundan (1988 – B.E. – Electrical Engineering)
The event concluded with the vote of thanks by Prof. Manoranjan Parida, Deputy Director, IIT Roorkee.