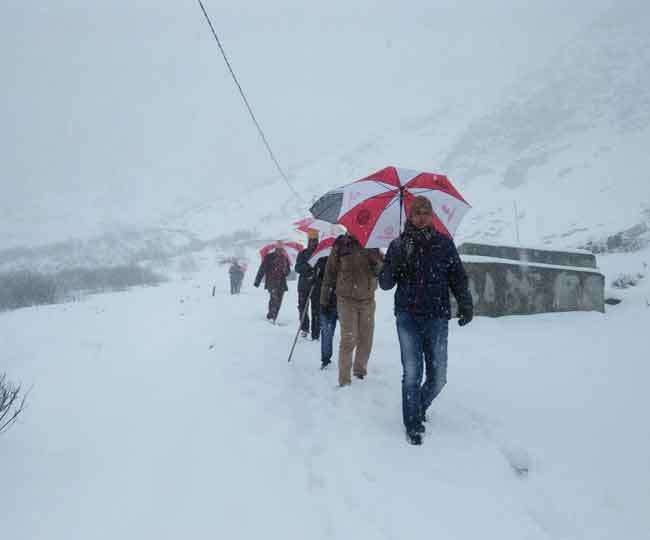 Chief Secretary Utpal Kumar Singh reviewed the arrangements for Sri Kedarnath Yatra through video conferencing. He directed the officials to further improve the health facilities. He said that the first resuscitation kit should be available at all places on the Gaurikund to Kedarnath Yatra route. He added that in case of information about any pilgrim falling ill, he/she should be provided immediate treatment.
DM Rudraprayag Mangesh Ghildyal said that 23 MRP (Medical Relief Post) have been established between Rudraprayag and Gholteer, arrangements have been made for 40 Oxygen cylinders and 15 Oxygen generators. Apart from the doctors, 46 para medical staff have been deployed. With the assistance of Sigma, two heart specialist have been deployed. Two more doctors will be reaching on May 26. ECG, Pulse Oxymeter, Nebuliser, X-Ray machine etc have been provided in the medical units. In addition to these four ambulances have been deployed. He said that medical units with staff have been established at District Hospital Rudprayag, primary health center Agastyamuni, medical Centre at Bhiri, Government Allopathic, Hospital Gupt Kashi, primary health centre Phata, MRP Sitapur, medical unit Sonprayag, MRP Trigyinarayan, state allopathic hospital Gaurikund, MRP Chauri, medical unit Jangal Chatti, MRP Bhimbali, medial unit Rambada bridge, MRP Choti Lincholi, medical unit Badi Lincholi, MRP Kainchi Bhairav, MRP Rudra Point, MRP Base Camp near Kedarnath shrine, medical units at Ukhimath, Chopta, Tingnath, Gaindhar, Madmeshwar and Gholteer.
He said that the sector magistrates deployed by district administration monitor the whole Yatra route. On getting information of any pilgrim falling ill on the route, the patient is airlifted through helicopter to the hospital. DM Mangesh Ghildyal said that LED bulbs have been installed at every 25 meters on Yatra route from Gaurikund to Kedarnath. Regular monitoring of the water, toilets and cleanliness arrangements is being done. Whole route has been connected with Wi-Fi. The pilgrims are using the Kedarnath App to seek information about the pilgrim spots around Kedarnath Dham.