Dateline Dehradun: Yellow Marigold at the Berry House played the perfect host for an exclusive Table Styling Workshop held recently in the city.
Ella Garg of Yellow Marigold tells us, "Though we launched in 2019, the pandemic stalled things a bit. We always wanted to bring such 'out-of-the-box' ideas to the city. Yellow Marigold plans to have many a 'firsts' in the city in the coming months bringing joy in our customer's homes, through our products and such curated experiences.'
Conducted by Ami Kothari from Dining Couture a Mumbai based company, the two-hour session showcased how one could spruce up their table and make it the focal point of your dining room. Simple yet elegant techniques showcased by Ami made an instant connect with the select yet engaged audience.
Ami stressed on how easily one could transform everyday items lying around the house into personalised and pretty tablescapes such as fresh or faux flowers, empty glass bottles, candles and the like. In Ami's words, "The highlight of the afternoon was actually having male participants which actually goes to show that gender roles are finally evolving. The participants particularly enjoyed the beach theme, the night setting as well as incorporating daily household items for table decor.'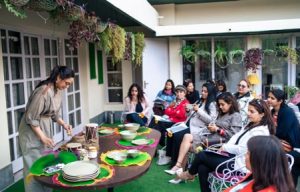 With complementing colours and textures being the key, Yellow Marigold (an upcoming home decor brand from Dehradun) exclusive tableware designs and colours blended well with the themes. The Wild Rose collection with its bright plum colours brought out classiness, while the Sunflower yellow plates made for the stylish beach look. As the green Oyster plates complemented the festive colour scheme. At the workshop, one also got a sneak peak into Yellow Marigold's latest collection 'Daisy Dreams', a youthful flower design to be launched this summer.
Those present at the venue walked away acquiring new skills of how to set up a special ritual for all your meals. As Namita Mumgain, one of the participants felt, 'The workshop was fantastic, how one serves really enhances the eating experience. This was the first-of-its-kind event at Dehradun. Hats off to Yellow Marigold & the Dining Couture team. Those who weren't able to attend have missed something really magical.'
Looking forward to many such magical experiences via Yellow Marigold in the near future.