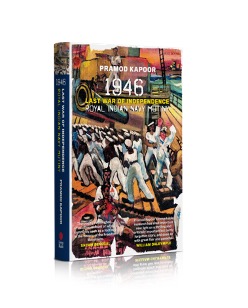 Dateline Dehradun:  '1946 Royal Indian Navy Mutiny: Last war of Independence' by Pramod Kapoor was launched in Dehradun today.  An inspiring and moving account of the mutiny of the young ratings in the Royal Indian Navy against the British Empire captures the definitive account on this watershed moment in India's freedom struggle released on 25th February, marking 75 years of this mutiny.
Author Pramod Kapoor was in conversation with Dr Sanjeev Chopra, Festival Director,  Valley of Words under whose banner the book was released.  The session was chaired by Vice Admiral Vasant Laxman Koppikar (RETD) PVSM AVSM who said, "this book fills a void in the naval history.. it celebrates the glorious career at sea."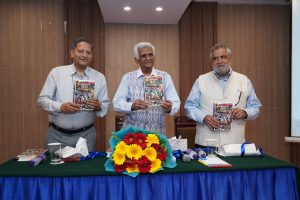 Celebrating Pramod Kapoor's second book as an author, the whose-who from the community came in full attendance pouring in congratulatory notes for his thoroughly researched book which has won him many accolades.
Kapoor's latest book presents the most detailed and lively account of five days, starting 18 February 1946, when young ratings of the Royal Indian Navy mutinied. What led to the mutiny was the appalling service conditions, racism and broken promises made at the time of recruitment. In less than 48 hours, 20,000 young sailors took over 78 ships and 21 shore establishments in and around Bombay.
The book resurrects a foot note event in history and revives the memory of the forgotten heroes who were part of the last war of Independence.
'1946 Royal Indian Navy Mutiny: Last war of Independence' is set to be out in Tamil by Bharathi Pusthakalayam, and soon to be published in Pakistan by Lightstone Publishers.
About the Book:
Title: '1946 Royal Indian Navy Mutiny: Last war of Independence
Pages:376
Size:8.5×5.5in
ISBN: 978-93-92130-27-4