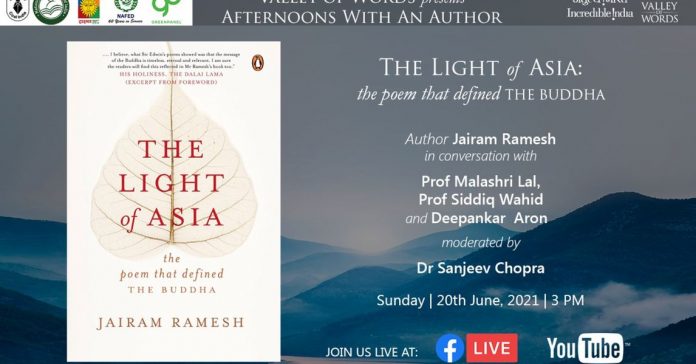 Dehradun: "Valley of Words is pleased to announce its partnership and academic collaboration with the National Digital Library of India(NDLI) based out of IIT Kharagpur and its two thousand affiliated book clubs to extend the reach of reading, scholarship and digital connect. NDLI will also be a partner in all our forthcoming monthly webinars.
The June edition which is planned for Sunday, , the 20th June will feature Jairam Ramesh's new offering : The Light of Asia : The Poem that defined the Buddha . This is a unique book – for it is thew biography of an epic poem. The Pandemic has been a blessing in disguise for this cerebral Parliamentarian who has been very prolific in his writing over the last few years.
He first wrote Indira Gandhi : A Life in nature, and followed it with Intertwined Lives : Indra Gandhi and PN Haksar. The Light of Asia was penned by Edwin Arnold, who also wrote the Song Celestial (A transcreation of the Bhagwat Geeta) which was much admired by Mahatma Gandhi. But the book in discussion is the one which shot Arnold to global pre-eminence as a scholar of Buddhism and Hinduism. Ramesh talks about this book and both the bouquets and brickbats received by it. While Indologists, Buddhists, Sanskritists and scholars of religion lauded it, those who were deeply embedded in the Christian tradition and the infallibility of Jesus saw this as a conspiracy, and sought to demolish its thesis.
Three eminent writers and scholars will be in conversation with Jairam Ramesh coming  Sunday between 3~4 pm. These include Professors Malashri Lal, a distinguished scholar, translator and writer herself. Currently she is member of the English Advisory Board at the Sahitya Academy. Her specialization lies in literature, women and gender studies, and she has to her credit around fifteen books including The Law of the Threshold: Women Writers in Indian English.
Prof Siddiq Wahid whose forbearers were with His Holiness the Dalai Lama in Lhasa before he moved to India, describes himself as Academic by temperament; professor by vocation; activist by choice; dissenter by compulsion. He has headed the Institute for Chinese Studies, and was a Fellow at the CPR.
Deepankar Aron, an alumnus of IIT Delhi, recognised with the Presidential Award for his contribution as an Indian Revenue Service officer, is also a passionate traveller and a consummate photographer and writer. World Heritage Sites of Uttarakhand, his first pictorial book was published in 2010, and his recent book ( also featured in this series) is On the Trail of Buddha—A Journey to the East, a sojourn in search of the spiritual, philosophical, and cultural linkages that bind India to the East Asian civilisations—the book explores the 'ancient India', beautifully preserved in the traditions, art, and architecture of China, as also in Mongolia, Korea and Japan, to where it spread from China.
This will be the eleventh edition of the webinar scheduled from 3~4 pm, and all previous webinars are available on the YouTube and FB page of Valley of Words.