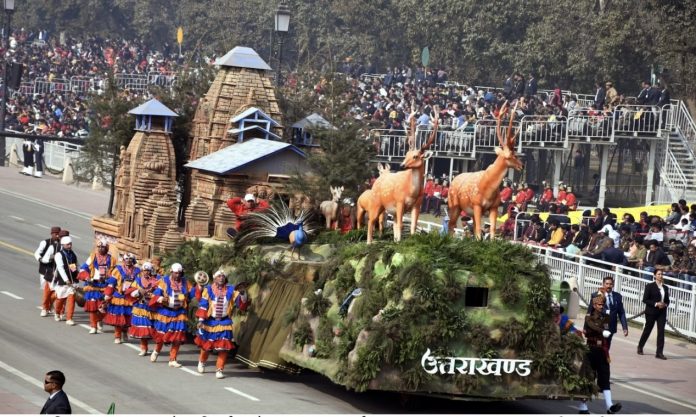 Dateline New Delhi: The vibrant and colourful 'Manaskhand tableau' of Uttarakhand received the first prize at the Republic Day Parade held in New Delhi, the State's first award for a tableau since its creation.
This achievement that was lauded by Chief Minister e Shri Pushkar Singh Dhami who said, "It is a proud moment for all of us. The Garhwal region has been described as Kedarkhand and Kumaon as Manaskhand in Puranas. Mythological temples of Kumaon region are also being developed on the lines of Char Dham under "Manaskhand" Mandir Mala Mission. The tableau brought to the forefront the beauty and divinity of the hill-state."
After five-rounds of detailed meeting which started in early September with the Ministry of Defence, the tableau of the hill state was finalized and given a 'thumbs-up.'  The tableau's theme, design, model and music was successfully projected by Joint Director, Information Department, Kalam Singh Chauhan who explained how over the years, various tableaus from the hill-state have been a permanent fixture making their way down the Kartavya Path but this was special in many ways, "It is a moment of great pride for the entire state of Uttarakhand under the guidance of Honorable Chief Minister Shri Pushkar Singh Dhami as our State Tableau receives the first prize for the very first time after the formation of the hillstate. I am extremely glad that I got this opportunity to perform my duties as the team leader."
The temple of Jageshwar Dham stood tall and proud amidst the dense deodar trees with Corbett National Park of Uttarakhand, State Animal of Uttarakhand Musk Deer, avian delights such as Peacock, Ghughuti, Pheasant, Chakor, Monal, butterflies adding beauty to the traditional Aipan art painted on its exterior. A troupe of fifteen artists performed the Cholia dance as they accompanied the tableau down Kartavya Path winning hearts.