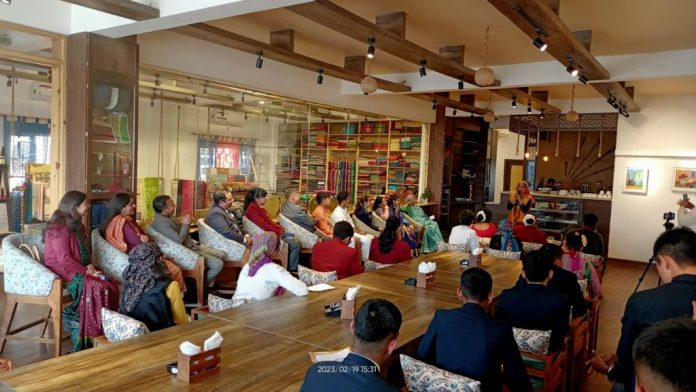 With the distinct aim of inspiring school students to engage in the joys of speaking in their mother tongue, an oration event was organised by Valley of Words, Dehradun on the 19th of February as a precursor to the International Mother Language Day celebrated all over the world on 21st of February. 
Over four dozen students from six prestigious schools of Dehradun district took part in the two-hour activity held at the VoW Café – Gallery – Library – Studio Sahastradhara Road.  Students from Brooklyn School, Doon International School, Kendriya Vidyalaya, ONGC, Himjyoti School, Oakgrove School, Mussoorie including cadets from RIMC, Dehradun came out in large numbers to participate in this one-of-its-kind cultural event as they represented 25 languages spoken around the country on subjects such as – environment, culture, urbanisation, motivation to achieve goals, urban and rural conflict etc.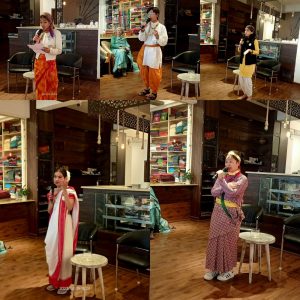 In its 7th year running, Valley of Words celebrates International Mother Language Day to promote cultural diversity. The Festival Director, Dr Sanjeev Chopra said, "VoW is privileged to celebrate the Mother Language Day with renditions from 25 languages – it will perhaps be the most expansive coverage of spoken languages of India. We have Tamil, Bengali, Punjabi, Himanchali, Garhwali, Malayalam, Manipuri, Marathi, Dogri, Rajasthani, Assamese, Mizo, Kannada, Odia, Arunanchali, Manipuri, Gujarati, Urdu, Kumaoni, Sanskrit, Nepali, Telugu, Hindi, English, Bhojpuri. Team Valley of Words would like to thank the Principals and staff of Brooklyn School, Doon International School; Kendriya Vidyalaya; ONGC, Dehradun; Himjyoti School; Oakgrove School, Mussoorie for their support in the organisation of this programme." 
Students of class nine and above, some turned out in their traditional gear recited verse and prose in their mother tongue from across the country, the hill-state was equally represented by students who spoke in Garhwali, Kumaoni and Nepali. The thought behind the event was to strive to promote a sense of pride in one's mother tongue as when languages fade, opportunities, traditions, memory, unique modes of thinking and expression are lost. Valley of Words took this opportunity to do their bit in promoting linguistic and cultural diversity through one's spoken mother tongue. 
Jyoti Dhawan, Curator for International Mother Language Day, Valley of Words felt, "Celebrating richness of linguistic diversity International Mother Language Day is observed on 21st February every year.  A child grows up speaking his mother's language of communication which has a unique identity reflecting the prismatic hues of the geographical location, traditions and lifestyle specific to the area. It is imperative to promote linguistic and cultural diversity through the mother language and Valley of Words strives to do just that by celebrating this day in a unique way! "  
The unique event, in its second edition promises to be an annual feat on the cultural calendar of the valley's prestigious schools as well as that of the Valley of Word, Lit fest with the aim of working towards celebrating the magic of world's rich fabric of cultural diversity and promoting multi-lingualism in young minds.   
Present at the occasion were Col Vikram Kadian SM Commandant RIMC, Sanjeev and Rashmi Chopra, Ms Jyoti Dhawan, Shalini Butola, Sachin Chauhan, Rakshita Upadhyay, Sneha Bhardwaj, Kalpana Tomar, Megha Chauhan, Bikram Singh, Sunita Dikshit, Rachna Sharma, Rina Bakshi, Pramod Sharma, Ashutosh Kumar amongst many others.