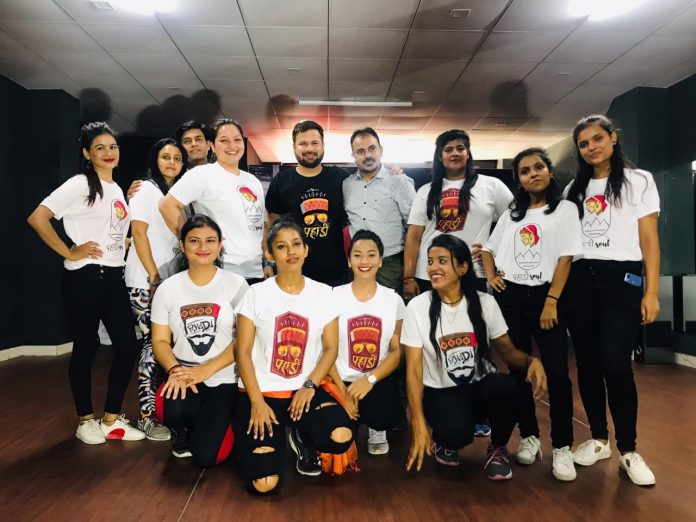 Garhwali song number, 'Thal Ki Bazaara' by singer BK Samant just got peppier. Tuds – The Unknown Designers is circulating the song as a possible Pahadi beat-number for Zumba and Gym goers to get them into the rhythm.
The lively song number seems to be getting popular by those who have heard it and the beautiful choreography by Ridhima Rawat and her team of talented dancers adds icing to the cake.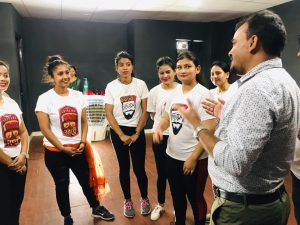 Young dancers, all college-going students in their early twenties enjoyed swaying to the beats of the songs. They effortlessly made it look like a good four-minute rigorous work out to a Pahadi number. Laxmi Kala, Sunita Singh, Himani Negi, Anjali Rawat, Babbie, Sanjul, Apeksha, Kriti Naithani, and Kritika Bahuguna were all of the views that "it was an upbeat song which had the right beats to work out in," and with just half dozen classes behind them the troupe came out with the perfect choreographed dance sequence.
BK Samant the voice behind the foot-tapping Thal Ki Bazaara was pleasantly surprised to see the song when he witnessed the shoot for the dance sequence in a studio and said, "I am amazed how beautifully this has been thought after. I am sure this will make waves with the gym-going crowd, I couldn't help singing along and swaying to the beats myself."
Raman Shelly of Tuds- The Unknown Designers tells us the reason why he chose Thal Ki Bazaara over all the other mash-up of Pahadi songs, "The beats of this original song by lyricist, singer, and composer is BK Samant has it all that makes a peppy Gym number and is a multi-purpose song which is being played in weddings and now hopefully in Gyms too. This could well be termed as 2019's Garhwali anthem."
For those who haven't yet seen or heard the song, here is the link: