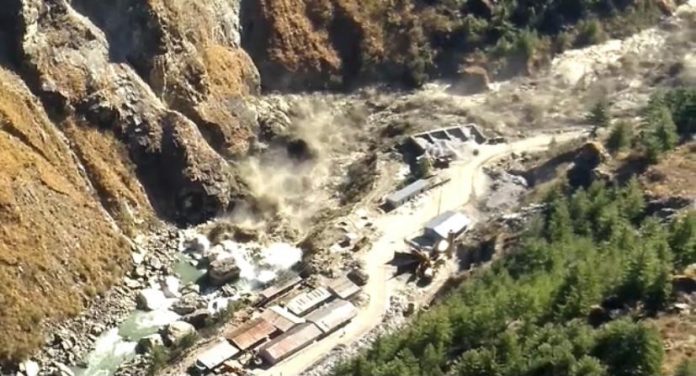 Dateline Chamoli: Once again, images of the June 2013 Kedarnath deluge came alive. Today morning, visuals of the Dhauliganga river in spate went viral. An avalanche near Tapovan, close to Raini village in Joshimath led to the river, a sub-tributary of the Alaknanda into spate wiping everything in its path. Eleven people lost their life, 153 are reported missing (32 from Raini and 121 from Tapovan), six injured and twenty seven labourers have been rescued from two hydro projects in the area.
"There were two hydro projects on the Dhauliganga one, NTPC and the other Rishiganga Project at Tapovan where we are told that 150 labourers are reported missing. We hope for their safety," SSP Ridhim Agarwal, STF Uttarakhand told Newspost.
Working on war footing, 70 SDRF personnel, two teams of NDRF, 425 ITBP personnel, 124 army personnel and four medical teams have been set up base at the site along with  officers and employees of Chamoli District Administration and Indo-Tibetan Border Police rushed to the area as the news reached the capital.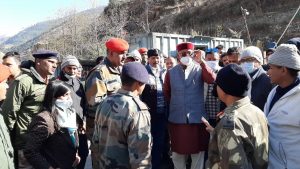 An appeal was made by the administration asking people to evacuate low-lying areas along the river. The Chief Minister on site tweeted asking people not to believe in rumours and  that the administration was taking all necessary steps. Talking to the media, Chief Minister Trivendra Singh Rawat said, "As work on Rishi Ganga power project, Railway line project was going on in full steam, safety of life is of paramount importance. We have alerted people downstream and moved them to safer ground. We are monitoring the water levels and speed which has now slowed down. The flow of the river Bhagirathi has been stopped at the GVK Dam in Srinagar and Veerbhadra Dam in Rishikesh has been drained to accommodate the rising water levels of the Alaknanda."
In a press conference late evening, the Chief Minister reiterated that prominence was being given to saving lives. He also announced an ex-gratia of rupees four lakh compensation for those who lost their life in the deluge.
Prime Minister, Narendra Modi tweeted: Am constantly monitoring the unfortunate station in Uttarakhand. India stands with Uttarakhand and the nation prays for everyone's safety there. Have been continuously speaking to senior authorities and getting updates on NDRF deployment, rescue work and relief operations.