Dateline Chamoli: Perched 500 metres above ground zero, Raini village near Tapovan in Chamoli district stood witness to the 7th February Rishi-ganga disaster in Uttarakhand in which thirty two people lost their life and many are still feared missing.
Home to Uttarakhand's icon Gaura Devi, the face of Chipko Movement, Raini village is today home to fifty-five households. The village too lost five of its own in the disaster that struck that fateful morning of 7th February. One young man working at the hydro-power project, some out grazing their herd and others working in their farms close to the river head, were swept away in the raging water.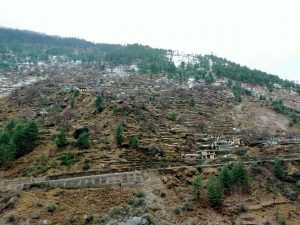 "We heard the sound before we saw the dust rising through the hills," recalls Kalam Singh who lives in the village with his family of five. "Within minutes the flood wiped out everything in its wake. After two to three hours when the dust settled, we saw how close we were to being swept away in the raging Rishiganga."
"There is fear amongst the villagers now . The foundation of the hill has been scrapped and god forbid, but in the future if another disaster strikes, the entire village will be swept away as well." Kalam Singh adds, "Some villagers who had other alternates have already left Raini. The elderly are reluctant to leave home but the youth have already left."
Gaura Devi's son, 77-year-old Chandra Singh recalls, "When disaster struck, we were all shaken up. I dint think we would survive the deluge. We wanted to up and leave. But now when I see things around me settling. Getting back to normal. I cannot find myself leaving. This is home. My home. My roots. Our souls reside here." And I leave him with his thoughts as his family of eight snuggle upto him in the winter sun.