Uttarkashi, Come winter and Tilak Soni, mountaineer, adventurist and restaurant owner in Uttarkashi town is busy organizing yet another motorcycle expedition, 'Snowstorm 2020.'
For a decade now, under the banner 'Where Eagles Dare,' Tilak has been a pioneer in Winter Adventure and Alternate Tourism in the hill state.
Promising everyone adventure of a lifetime, appropriately called 'Snowstorm 2020,' riders on bikes and SUVs drive into the interiors of Garhwal Himalaya in the heart of winter on roads full of snow and ice.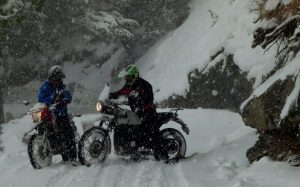 Like Tilak puts it, "Riding on high mountain roads in winter when they are covered in snow or hard ice is either for the foolhardy adventurer or the skilled traveler. Motorcycling in Zero traction conditions is not every rider's cup of tea." He further adds, "The trip is conducted with military discipline and precision. More than being physically fit, one needs to be mentally very strong to bear harsh conditions."
A complete on-the-job workshop and hands-on training by international trainers is conducted for the first timers. A manual on every minor detail pertaining to biking, riding, weather reading, clothing, food and minute survival skills is handed out to guide riders'  before they and their machines take charge of the road.
16 participants from all over the country, who have signed up for Snowstorm 2020 will be flagged off on the 27th of January from Uttarkashi and arrive in Dharali the same day. 28th January a-day training will be conducted for riders. Live demonstration by an international instructor will give the participants a glimpse of the real thing. On the 29th they will all ride off into the hills to arrive in Gangotri (if weather permits) and return to Uttarkashi by late evening.
Incase you too are bitten by the adventure bug and live for the thrill, then do join Tilak Soni on his Royal Enfield Garud and his team, as they Snowstorm Gangotri this 2020.