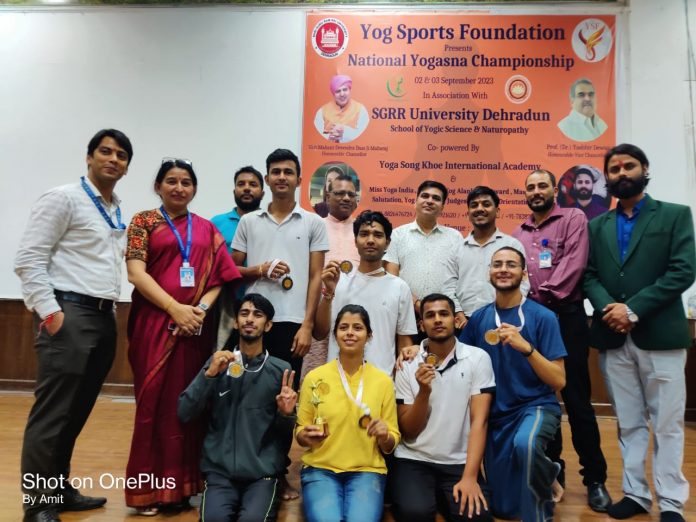 'School of Yogic Science & Naturopathy', 'Shri Guru Ram Rai University' and 'Yoga Sports Foundation' organized a two-day 'National Yogasna Championship' jointly on 3rd and 4th September.
HSYS students stole the thunder by clinching 1 gold, 5 silver, and 1 bronze medal at this prestigious event.
Divya Solanki, Srishti Rawat, Sumit Dhyani, and Aditi Sharma each secured third place in their respective age groups and earned four bronze medals. Meanwhile, Manvi Nautiyal,
Pranjul Rana, Anmol Vinjola, Sahil Chauhan, and Shubham Dhodiyaal achieved second place with five silver medals. Former gold medalist Sakshi Nautiyal once again clinched the first place and obtained the gold medal, a matter of pride to the entire university.
In this event, Yoga students, Yoga trainers and Yoga exponents from 18 states of India participated.
Besides this, Yoga exponents from U.S.A., Vietnam, Brazil, Argentina, Australia, Egypt and Czech Republic also participated in this championship.
Chancellor, Shri Guru Ram Rai University, Mahant Devendra Dassji showered his divine blessings on the participating Yoga Exponents, Yoga Trainers and Yoga Students.
The Championship was started jointly by Chief Guest, Shri Guru Ram Rai University's Registrar Dr. Ajay Kumar Khanduri, Coordinator, Dr. R.P. Singh, Chief Proctor Cum Spokesperson, Manoj Tiwari, Guest of Honour, President, Maharastra Sports Foundation, Prof Balwant Singh with the ceremonial lighting of the lamp. 180 participants, 40 referees, 10 members of judges committee from 18 states of India participated in the Championship.
The attractive Yogasnas by the students, trainers and exponents of Yoga enlightened and impressed the audiences. The main attraction of the Championship was the fusion of artistic Yoga with music. Participants from Jammu & Kashmir, Himachal, Punjab, Uttarakhand, Haryana, Rajasthan, New Delhi, Gujarat, Assam, Bihar, Maharastra, Madhaya Pradesh, etc. participated in the prestigious event.