Next time you attend a Garhwali wedding, the chances are you wont hear the bride walking down the aisle with a Punjabi score in the background, but that to the Garhwali Maangal score by Pandavaas.
A 25 minute compilation of six melodious but forgotten Maangal tracks sung during auspicious ceremonies in Garhwal have been given an interesting musical twist by Pandavaas who attempted to bridge the gap between tradition and modern.
Kunal Dobhal tells us, "We were asked to put together a score for a marriage in Shri Trijuginarayan which is an upcoming wedding destination. Instead of working on something new, we have tried to rework on the ancient traditional Maangal scores, with a new twist which still reverberates with the ancient score above the tweaking of the orchestra."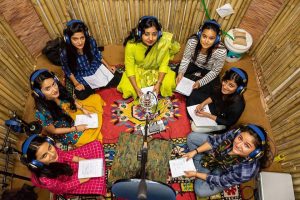 While the songs are sung in pahari tune the foot-tapping orchestra complete with sitar, violins and shahnaee doesn't take away the old-age charm of the songs.
Talented, raw artists from as far as Delhi and Haryana attended a three-day workshop in Srinagar, Garhwal, earlier this year to get the correct pronunciation, accent and intonation which took close to a year to be ready for release. Eight young female artists, few non-garhwali have lent their voice to the melodious tracks. Anamika Vashisth, Anjali Khare, Avantika Negi, Ekta Negi, Ruchika Kandari, Shalili Bahuguna, Shiwani Bhagwat, Sunidhi Vashisth, Sushma Nautiyal along with three male artists Aman Dhanai, Deepak Naithani and Ishaan Dobhal sang the six tracks in the compilation, each relating to a particular ceremony during weddings, such as Haldi haath, Pheras, Vidai etc.
Maangal will soon be released on digital platforms such as iTunes, Gaana and Juke Box on Youtube so that the collection has an international appeal and access to everyone.
About the idea of digital release, Kunal Dobhal says, "its not always about profit and loss, some creativity is done for the love of rituals and traditions and keeping alive, that which was once an inseparable part of our past."