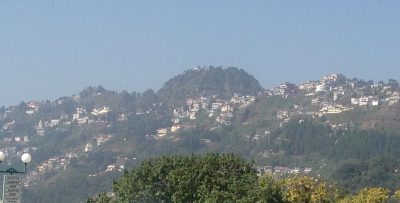 Dateline Mussoorie: There has been an alarming rise in those infected by Covid-19 in Mussoorie in the second wave. While just a month ago, on the 4th of April there were a hundred and sixty-eight Covid positive patients with six containment zones. Fast-forward to present day and the numbers have risen to seven hundred and eight seven with thirteen containment zones.
The Civil Hospital – is the only dedicated Covid hospital in the hill station – has nineteen oxygen beds and five ICU beds, two ambulances, with another ten beds with oxygen concentrators being set up in the coming days. Within ten days of being operational, nine patients have recovered and sent home.
Clamping a ten-day curfew with non-essential shops being shut after 12 noon, and essential shops at 7:00 p.m. has had a salutary effect. The number of those being tested positive has been going down. Of course, it is too early in the day to let your guard down as in the second wave the town has lost over a dozen residents.
The local administration, the community and youth continue to work on a war footing to tackle the grim situation. From a 24×7 Control room number to assist those in need of any assistance related to Covid-19: these include home-isolation, check-up, medicines, disinfection, sanitization drives, free distribution of oxy-meters and thermometers. Seven vaccination centers have been operational assisted by local schools and community groups, where nine thousand eight hundred and twenty four have been, vaccinated to date.
The Sub Divisional Magistrate of Mussoorie, Manish Singh IAS tells Newspost: 'For effective monitoring, Mussoorie has been divided into four sectors, each headed by a sector magistrate. They look after Covid positive cases in their areas. A dedicated team of Asha workers, teachers, Aanganwadi workers – help and assist those in need by providing medicines; monitoring the health of those affected and report if they see a spike in cases in containment zones."
Pehal, a community based initiative was started by a team of six like-minded people. They are working round the clock to deliver over hundred and twenty homemade-meals free of charge per-day to patients living in isolation. Apart from meals, the team along with the medical authorities has started an oxygen-bank where they are handing out oxygen cylinders to those with low oxygen levels, along with nine advanced oxy-meters.
These are trying times and once again what triumphs is the spirit of Mussoorie – it has come out a winner. Many nameless, faceless residents, mostly preferring anonymity, have stepped up to help crowd-funding, organizing ICU beds, plasma donors, oxygen concentrators, ambulances and medicines for those who need them in the hills of home.