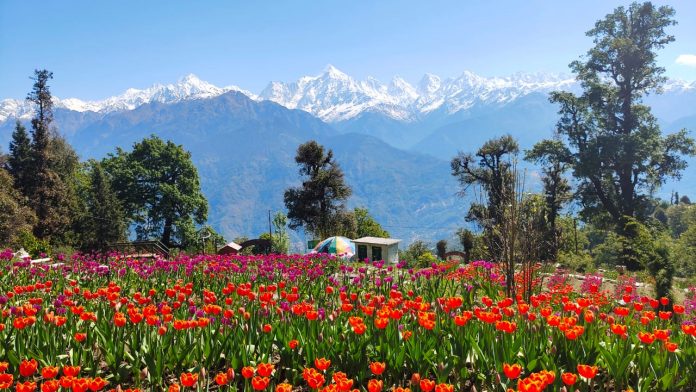 Dateline Pithoragarh: Come summer and Munsyari's Tulip Garden is blooming away in all its glory, a dazzling display of colour that gives us some respite in these otherwise gloomy  Covid days.
This year around too, at an elevation of nine thousand feet at Munsiyari, Dr. Vinay Bhargav, IFS & DFO, Pithoragarh with his multi-skilled team has managed to double the Tulip crop and given us a sea of tulip flowers to behold.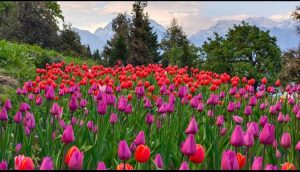 The location's elevation and weather makes it a perfect combination for Tulip bloom in the region which you will see for half a year. Some twenty thousand bulbs, of five varieties: Queen of Night, Hakuun, Laptop, Abba Red and Close to Red Impression's were brought in from Netherland. Under tulip trial project twenty thousand tulips were planted in and around Pashupatinath Temple, in Chandak region, some seven kilometers from Pithoragarh in 2019 on a trial basis, the first crop bloomed in the summer of 2020.
This year around, the bumper crop at Munsiyari leaves us spell-bound. Experiments with respect to altitude, season, new daughter bulbs and breaking of dormancy, has yielded a bumper crop. The target of a longer bloom season, a better flower size and ideal stalk length with a better life span has been achieved. The backdrop of the snow-laden Panchachuli mountain range makes this riot of colours, a sight to behold and a 'must-visit' post the pandemic.
Talking to Newspost, Dr. Vinay Bhargav tells us: "Results are phenomenal! This time there is more self-sufficiency for now and greater sustainability for the future." Adding, "Tulips being a native wild species of Kumaon Himalaya, we were confident of better results, but this is an astounding deliverance. We can now showcase more than six months of Tulips' bloom in a year."
The Tulip Garden is a joint vision of the Forest Division with the Tourism Department, assisted by the Horticulture Department and Rural Department. The working model came up with the basic objective of preventing migration, promoting livelihood opportunities and developing self-employment in community owned business model.