Dateline Haridwar: Elephants are modest. They always bathe with their trunks! At least Johnny, Sultan and Rani do and who could possibly ask for a healthier start to an otherwise mundane day when they have a rigorous fitness regime at their personal open-air gymnasium, shared with three other adults. This ensures they remain fit and fine.
These gentle giants are no ordinary five to six year olds, but simply adorable safari elephants living at the Chila Range of the Rajaji National Park.
Talking to Newspost, Anil Painuly, Range Officer, Chila Range, adds: "Our six elephants go from a six-year-old to thirty and all of them are like our own children. They depend solely upon us for everything and we too try to make sure that we pamper them in every which way."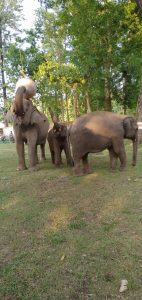 While in the wild, elephants walk close to eighteen hours a day foraging for fodder and water. Here, in the range these six elephants are used for patrolling, carrying fodder back to their enclosure when they are not taking tourists out on a jungle safari. The last task, sadly, has come to a grinding halt due to the present contagion.
To ensure that these elephants do not face boredom, and remain healthy and happy, the Forest Department of the Rajaji National Park took fitness tracking to a whole other mammoth level: "we came up with a unique open-air gymnasium consisting of a mud bath, dangling objects like footballs or discarded tyres; tangled nets with holes or empty barrels. The incentives – fruits and hay – are tucked away, hidden from the view inside these props. They are exercised and entertained.' explains Anil Painuly.
Less than a month old, the gym has become a favourite haunt of these mammoth mammals. The young ones mimic the elderly captive elephants but always under the watchful eye of their mahawats or minders as the pachyderms sweat it out every day. Believe you me! It keeps them physically fit, mentally agile as they strive to stay ahead of never forgetting anything.