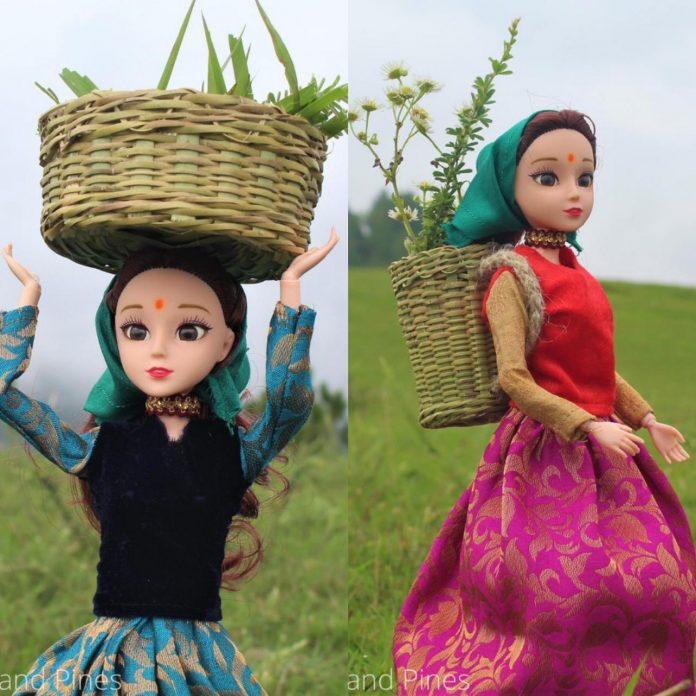 Dateline Dehradun: "Juniyali" was born on the 6th of October 2019. Standing tall at one foot, Uttarakhand's first Pahadi musical doll is a complete entertainment package. The dainty doll dances to the tunes of Garhwali-Kumaoni songs fed into it. Its shining wings glow in the dark, its beautiful 3D eyes make it look life-like and its shimmering attire make it look attractive. A must-have for young girls.
Three friends despite being in different countries shared a common dream, "Juniyali." Deep Negi presently working in a healthcare company in Dubai tells us, "I along with Pankaj Adhikari and Akki Adhikari who work in Gurgaon wanted to bring alive dreams of young parents, working in the cities who wished for  their children to know their ancestral language and culture or at least catch a glimpse of it. After extensive research we designed this musical doll so that from a young age they children could somehow feel a connect with their roots."
Designed under the "Phyonli and Pines – Journey Towards the Hills" banner, Juniyali adds to the company's aim to manufacture or sell products related to culture, agriculture, jewellery, lifestyle and tourism to promote reverse migration.
After out-sourcing the raw material, Juniyali was put together in Delhi and Uttarakhand. The traditional attire of Juniyali includes Ghaghra, Gulaband, Pichoda, Talkha, Koti, Pahari Topi, Ghilda, Tokari etc. with plenty of scope to add more regional touches to the end product.
Deep further adds, "The responses received so far have been very motivating for the team. The product is not only creative, but also fulfils the intention of Phyonli and Pines to bring cultural awareness and educate young-minds with the help of toys."
In today's digital age, when children have forgotten traditional games such as Chula-Bhandi, Gudda-Guddia, Pithu and Raj etc, Juniyali is trying to bridge the gap by bringing young-souls closer to their home in the hills.