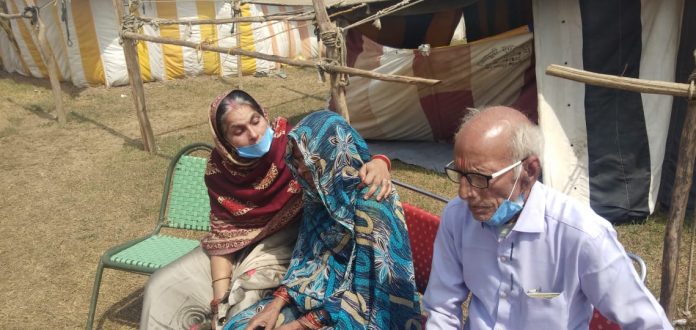 Dateline Haridwar: Everyday a new story unfolds at the Mahakumbh in Haridwar.  Some maybe heart breaking while other's make you believe in fate, destiny and a rainbow at the end of the clouds.
Today, five long years after being separated from her loved ones on the banks of Ganges, an elderly lady is reunited with her family.
It all started in the beginning of the year. Prior to the upcoming Mahakumbh, an intense verification drive was carried out by the Uttarakhand police along the ganges from Rishikesh to Haridwar. On 1.1.2021 Krishna Devi, presently residing in Triveni Ghat Campus was the wife of a certain Jwala Prasad who was living in Siddharth Nagar, Uttar Pradesh. The state police  sent her verification form, along with Krishna Devi's latest photograph to the police station in Siddharth Nagar, Uttar Pradesh, in an attempt to find Krishna's family.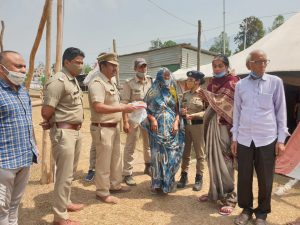 When the family members of Krishna were contacted, they informed the police that in the year 2016, Krishna Devi, had visited Haridwar during the Ardh Kumbh. But had failed to return home. Her family searched for Krishna from Haridwar to Ayodhya to Varanasi and Allahabad. Dejected they filed a 'missing person' report and also took out an advertisement in newspapers and television channels, but to no avail.
Five years down the line, when the Uttarakhand police contacted her son Dineshwar Pathak and showed him the verification copy of the Kumbh Mela police, their happiness knew no bounds.
Her husband Jwala Prasad along with their son Dineshwar Pathak and daughter Uma Upadhyay reached Rishikesh, in the early hours. They were informed that since her disappearance, their mother had visited Haridwar, Ayodhya, Mathura, Vrindavan, Gangotri, Yamunotri, Badrinath and Kedarnath.
Today, after all necessary formalities were taken care of, a happy and relieved family was reunited. In the past few weeks, the 'Lost and Found Centre' set up in Haridwar has  reunited close to four hundred missing people with their family, giving them that perfect 'happily ever after' ending.