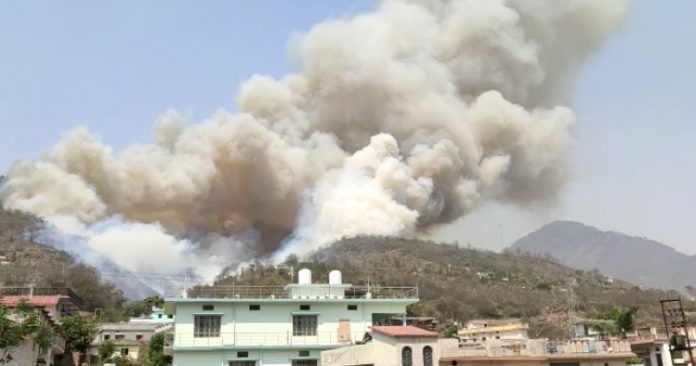 Dateline Dehradun: Forest fire season generally begins around the second week of February until mid-June. Come April and Uttarakhand has already seen over nine hundred incidents of forest fire that has decimated 1,292 hectares of green cover.
Worst affected are hill districts of Pauri, Tehri, Nainital and Almora with forty active forest fires even today. Twelve thousand forest guards are manning thirteen hundred fire crew stations.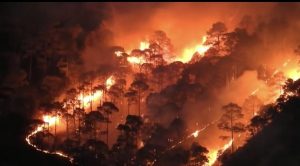 Long spell of dry weather; low-lying land winds, rising mercury have been the perfect recipe for these raging fires which wipe out forest wealth worth lakhs within hours. This year around, there have been four human deaths, two injured and seven animal fatalities due to these forest fire incidents in the State.
Forest Minister Harak Singh Rawat took to social media stating that forest officers and guards had been stationed and are on vigil, their leave cancelled, trying to minimise loss to life and property. The State machinery has been in over-drive, trying to contain these growing infernos.
Taking cognizance of the forest fires in Uttarakhand, the Centre today stationed two helicopters, one in Gauchar in Garhwal region and the other in Nainital in Kumaon to assist in quenching these garlands of fire.
But there is good news in the offing. Scientist, Rohit Thapliyal from Dehradun Meteorological Department shares with us, "Uttarakhand hills will witness light rainfall activity starting tomorrow i.e. 5th . The plains will witness light to moderate rainfall from 7th onwards. There are chances of hailstorm and thunder in the hill districts of Uttarkashi, Dehradun, Almora, Pithoragarh in the coming days as well." Consider this as music to the ears of our forest officials and guards who have been working on war footing to contain these fires.
Forest fires have been a constant threat to Uttarakhand's 3,400 sq km of green forest that comes under a dark cloud every fire season, yet there seems no permanent solution to it.