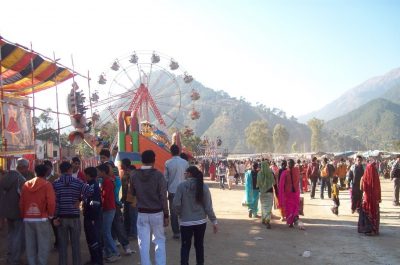 Gauchar Festival in Uttarakhand has been one of the most important elements of Uttarakhand's history and has been celebrated since 1943 – since the time of Indo-Tibetan Trade era.
This year, Gauchar Festival will be held from 23rd – 29th November, and will hold an all-round theme signifying the confluence of 'Trade and Tradition.' The weeklong extravaganza will offer a variety of activities to participate and indulge in.
Since the festival will be held at different locations in Gauchar, it will exhibit a diverse environment for all enthusiasts. People seeking for an adrenaline rush can partake in land and aerial adventure sports such as paragliding, hot air balloon rides and trekking. For those looking to visit the festival for business meets can interact with the buyers and sellers. Furthermore, the festival also feature Yoga Camps and activities like Prabhat Pheri.
Taking it to the next level, Gauchar Festival will also organize some mini internal fairs with concentric themes; the visitors can be a part of the Film Festival, witnessing amazing feature films by well known directors and composers. Last but not the least, no festival in Uttarakhand is complete without an element of the State cuisine, in the form of a Food Festival. What's more? There will be opportunity for the people to showcase their culinary skills with a 'Master-chef Competition'.
Ms. Swati Bhadauria, District Magistrate, Chamoli stated, "Gauchar Festival is one of the major developmental, cultural and industrial fair in the region and stands as a platform to promote trade and tradition. Through this festival, we invite people to explore the rich culture, local heritage and innovative business prospects of the district and State. The District Administration is leaving no stone unturned to make the necessary arrangements to ensure that the festival is a memorable experience for one and all."
The festival will also host a Sports Meet and sports activities like State Level Boxing Competition, Football, Volleyball, Badminton, Tug of War and Kabaddi Competition.
7 days of continuous celebrations will see performances by various artists such as Jagar Samrat, Shri Pritam Bhartwan, the Pahadi Mr. Pawandeep Rajan, the Soulful Nizami Bandhu, Mr. N. C. Sarkar to name a few.
To stay updated and to register your interest for the different activities and affairs related to Gauchar Festival 2018, stay tuned to the official Social Media Pages of Uttarakhand Tourism or visit the official website for more: