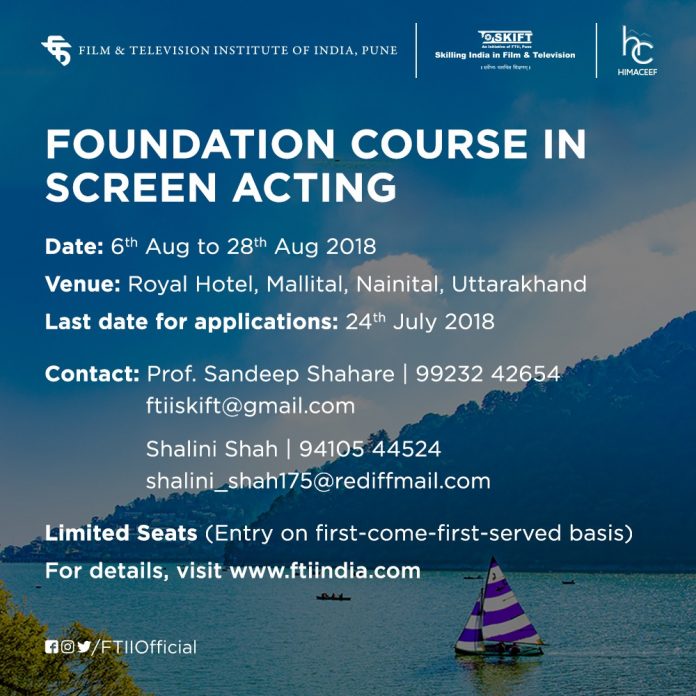 Nainital, Film and Television Institute of India (FTII), Pune, in association with Himalayan Society for Art, Culture, Education, Environment & Amp; Film Development (HIMACEEF), Nainital, announces 20 days Foundation Course in Screen Acting at Nainital.
Following are the details:
(1) Dates: 6th to 28th Aug 2018 (excluding 15th Aug and 2 out of 3 Sundays)
(2) Timings: 9.00 am to 6.00 pm
(3) No. of participants: 24 (Course will be conducted only if minimum strength of 20 is reached)
(4) Age: Participants must be 18 years or above in age as on 1st Aug 2018
(5) Nationality: Indian
(6) Venue: ROYAL Hotel, Mallital, Nainital
(7) Fees: Rs 25,000/- per participant (Demand Draft to be drawn in favour of "Accounts Officer, Film and TV Institute of India, Pune", payable at Pune)
(8) Last date to apply: 20th July 2018 by 4 pm
(9) Faculty: Shri Siddharth Shasta
How to apply:
Download application form from websites of FTII or HIMACEEF. Fill – in all
details, attach required Demand Draft and send it by speed post/ courier or deliver it in person to
Shri Rajesh Shah,
Samridhi,
Pilgrim Lodge Compound,
Mallital,
Nainital – 263 001
Uttarakhand
On envelope of application at top left, write "Application for Foundation Course
in Screen Acting".
Medium of Instructions: The medium of instruction would be mainly English and partly Hindi. Participants are expected to have adequate knowledge of English and/ or Hindi as regards to reading, writing & speaking.
Selection Criteria:
First – Come – First – Served basis. However, course will be conducted only if the minimum strength of 20 participants is reached. Selected candidates would be communicated by email. Course fees of the selected candidates will be non – refundable under any circumstances. Demand Drafts of non–selected candidates would be returned within 7 days.
Certificates:
All participants would be given participation certificate on successful completion of the course. Minimum 90% attendance is mandatory.
Accommodation:
Limited accommodation (on first come first served basis) in ROYAL Hotel on twin sharing basis is available for the participants on additional lumpsum payment of Rs 22,500/- which will be inclusive of basic meals. This additional payment is to be made in advance in cash on 5th Aug 2018 directly to the Hotel. Interested participants need to intimate the accommodation requirement in the application form without which the same will not be considered. The accommodation with meals will be available from 5th to 29th Aug 2018.
For more details log onto: www.ftiindia.com