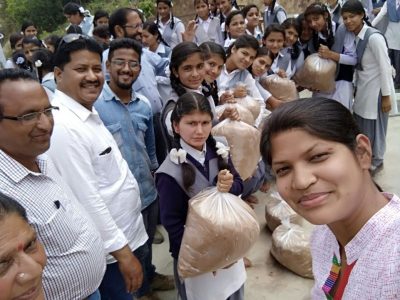 Rudraprayag, Whenever we think of Uttarakhand, we imagine a mass exodus of youth leaving the hills for the plains, in search of a brighter, better future. But there are many amongst us who chose to return to their neck in the woods and be the change they always dreamt off.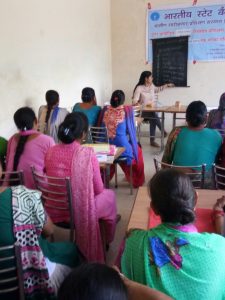 25 year old Ranjana Rawat of Dhiri village is one such success story. Born and brought up in the lush green hills of Rudraprayag, Ranjana completed her schooling from here and then like everyone her age, moved to do her B. Pharma from HNB Garhwal University, Srinagar. Ranjana got a job as an Industrial Pharmacist in Dehradun that lasted all of three years. Today, looking back, Ranjana tells us, 'I felt that I wasn't putting my capabilities and skills to their optimum use. Here I was doing a nine to five job just like everyone else to  maintain a certain standard in the society, it was a very shallow feeling.'
On a brief visit to Delhi, Ranjana chanced upon a mushroom-cultivation demonstration which gave her wings to return to her roots with the aim of doing something more fruitful and meaningful.
Since January 2016, Ranjana has painstakingly taught the hill-folks of Dhiri, the art of cultivating mushrooms, 'mushrooms are easy to grow and have greater returns and that is the reason I and everyone around me took to it with such ease,' she adds.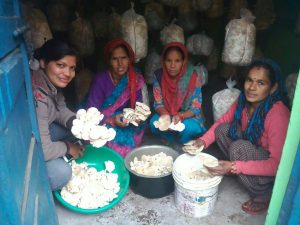 At present, her home of fifty families has sustained their livelihood by daring to think out-of-the-box produce due to this young lady's unrelenting ways, 'we have planted close to six hundred mango, guava, peach trees along with setting up poly-houses in which we grow seasonal vegetables and mushrooms.' Ranjana  wants her hill-folks to know their own potential and to make the most of what ever resources they have.
Not only has young Ranjana been a leading example for young girls and elders in her district, but she has held successful training camps in six districts in the hill-state, 'Its nice to see people take to farming again. Most of us thought of farming as sheer time-pass but now all that is changing. My farm is an 'employment model', where I lead by example.'
Ranjana signs off, "I want to start small and then grow big. I want to take my people along with me on this journey to a better, brighter tomorrow in the hills, we all call home."