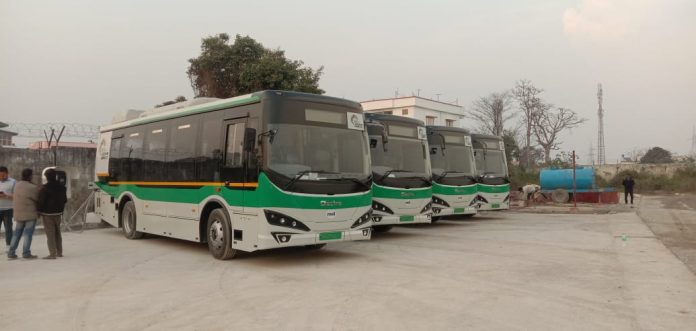 Dateline Dehradun: Taking a step in the right direction, under the smart city mission, Dehradun will now have a fleet of five electric buses hit the road running, tomorrow morning.
Made for the convenience for those commuting from ISBT, the bus will cover the entire length and breadth of the city with thirty-two bus-stops, culminating at Rajpur. These white and green buses will ply from 6:00 a.m. to 10:00 p.m at night making it convenient for people to move around.
Surya Kotnala, Nodal Officer, Electric Bus Project, Dehradun Smart City Limited updates us, "the tendering for these buses happened in 2019 and after three rounds when paper work and everything else was finalized, Covid played spoil-sport and delayed things further, but now we are all set to see these buses ply in Dehradun."
Olectra manufactured 'Doon Connect' electric buses make this state-of-the-art vehicle a twenty-five-seater. The bus takes anywhere between four to five hours for full charge. The electric buses comes with the dual aim of being energy efficient as well as making the city clean and green. Nine meters in length with a width of 2.5 meters, this air-conditioned bus works on a GPS system in sync with an announcement port which announces in Hindi, English and Garhwali, automatic display board. The bus is mounted with three CCTV cameras, an automatic announcement  port which announces  and a USB port in every seat to charge mobiles and laptops when on the move. Complete with panic buttons, fire extinguisher, emergency hammers, it comes equipped with space for wheelchairs with a hydraulic ramp to make it convenient for differently-abled people to board the bus.
Accelerating its electric vehicle project with the aim of making Dehradun greener and cleaner, the ticket is priced at a nominal ten rupees for 0-4 kilometers and then will increase in multiples of five as it rolls along. If all goes as planned, the Dehradun smart city limited will soon add another six electric buses to their fleet in the month of March.